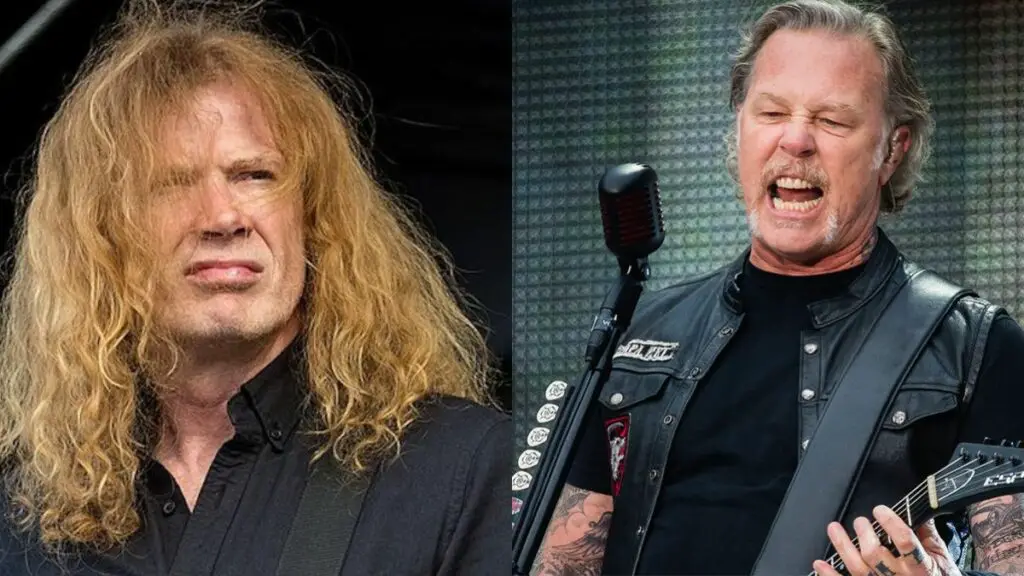 MEGADETH mainman Dave Mustaine recently revealed in an interview with Guitar.com that he and his former METALLICA bandmate had been planning some sort of joint venture, but it fell through after Mustaine offended James Hetfield with a comment about publishing royalties. They haven't spoken since.
When asked if his "outspoken" reputation ever hindered his career, Mustaine went on to tell a story about a difficult conversation he had with Hetfield. He then casually mentioned that the two of them are were planning something new together.
"There's three sides to every story, right," Mustaine said. "There's my side, there would be the other person's side, and then there would be the truth which is somewhere right in the middle. You know, oddly enough that was one of the last conversations I ever had with James Hetfield, because we were talking about getting back together and doing a project.
He continued: "Something had come up about the publishing discrepancy that we have been arguin g about for years and years and years, and I told James, 'I'll do it but we've got to get this stuff sorted out first'. And he said, 'Oh yeah, sure.'"
"So I said, 'Now these two songs you and me split, 50/50. Lars [Ulrich] didn't write on this song — you know that. I don't know why you gave him percentages but I'm not. I'm not going to sign another deal that's gonna confirm that because I never agreed to that'.
"And James said, 'Well, Lars has a different recollection of that,' and I said that's fine; there's his side of the story, my side and the truth is somewhere. And that blew his mind, and we haven't talked since.
"You know, I was trying to be really friendly with him; he told me that the last three projects they did bombed, and they wanted to go back and use all the stuff that I was on, and I said sure. As soon as I said that 'three stories' bit, it was over!"
Sometime in 2015, Hetfield and Mustaine started discussing reissuing METALLICA's 1982 demo No Life 'Til Leather. The talks abruptly ended after Hetfield supposedly wanted drummer Lars Ulrich credited on songs that Mustaine claimed he wrote. As a result of these failed negotiations, not only was the reissue scrapped, but also an additional project that Hetfield and Mustaine were planning together.