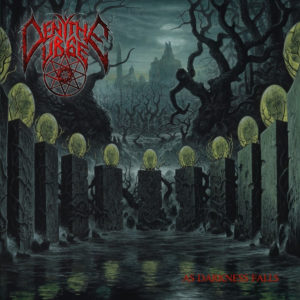 Once in a while bands we receive here come with a story. Deny The Urge were founded in the yet very distant year of 1998 and this effort, "As Darkness Falls," took ten years to see the light, or the darkness, if you will. Despite being well-reviewed in many magazines and other media, life hasn't been easy to the core guys of Deny The Urge due to a bunch of line-up and health issues. But Deny The Urge took for granted HammerFall words in "Life Is Now:" 'never give up, never give in;' and they're back on track with "As Darkness Falls," a very mature and consistent piece. Persistence sometimes is the key and what don't kill you, make you stronger. I strongly believe in that.
Instrumental passages in "As Darkness Falls" are easy and natural, a sign of the matutity of the band and the musicians. Thus, that's what differences Deny The Urge from the pack. The caprice and competence on instrumental matters. "Loophole" is an example not only of variety, but musical accuracy. Listening to Deny The Urge is also a way to pay close attetion to background sounds. They're part of most songs leaving no blanks inside them. As a sign of that, Deny The Urge chose to also vary singing skills in "On The Surface," where vocalist uses some more the usual grunt. Nevertheless, is always good to have a guitar virtuoso on the band. A guitarist who can provide much more than simple noise. Yup, we like noise, but a little virtuosity is always welcome. "Infected Curses" features that Deny The Urge are just a little bit far from being a Melodic Death Metal band, but I guess Deny The Urge is more near Progressive Technical Death Metal where they fit more comfortably.
Let me talk more about the guitars. The soloing in "As Darkness Falls" is very creative as said before. That's because Henrik Osterloh and Max Hinger styles are full of right-hand effects using accurately the whammy bar and tremolos. Furthermore, the phrasing is precise; no need to hide some notes playing all of them in order to emphasize phrasing. That's the difference between a fast guitarist and a wanna-be fast one.
Deny The Urge "As Darkness Falls" is mandatory to whom enjoys a well-played death metal piece.
Track Listing:
Intro
As Darkness Falls
Loophole
Altar Of Addiction
All Or None
On The Surface
Infected Curses
Voices
Perfect Disguise
Vatermoran
Medusa
The Processing
Separated Flesh
"As Darkness Falls" will see the light on August 1st via G. U. C.
Watch the official video for "As Darkness Falls" here.