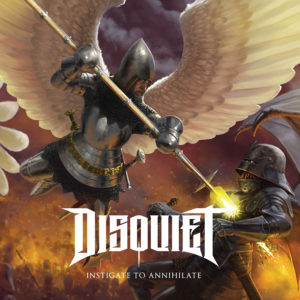 The first impression I got when I put Disquiet "To Annihilate" to play here in my PC was that the band was an acid Grave Digger which is an acider Accept, got it? The first time I heard Grave Digger I thought it was an acid Accept. So, Disquiet is an even acider Accept or an acid Grave Digger. I guess now it's clear. That stands right for four tracks in a role. Fifth track "Wrecked" means it and wrecks all my thoughts about the album and the band with only one hand. It features a female vocalist with a Modern Metal wrapping though the melodic and outstanding guitar solo. From then on the album changes slightly. That's why sometimes it's better to start writing after hearing all the album.
After all this considered, in fact, "To Annihilate" is more intriguing than I actually thought in the beginning. "Destroyance" is a track that really shakes all over the album. From the vocals to the instrumentals the track was driven to be an acid – again – 1990's Teutonic Power Metal. Very different from the Melodic Death Metal with Grave Digger's vocals from the four initial tracks. Hearing it more carefull I'd say this track has another hidden taste that I can't recognize right now. Or maybe the melodic twin guitars with an amzing guitar phrase that ends the track. Great song! I love albums that surprise me. Ok, "Sicario" doesn't change that much but it showcases those Modern Metal vocals in the middle of the song as some background. I have to say that even though the vocals are in a kind of background it changes a lot the mood of the song. Ah, the guitars again. Maybe they are the only consistent thing to compare from all the album. Maybe it's the stapler Disquiet need to build in their personality. By the way, there is an amazing instrumental track called "A Dying Fall."
Here we've got an album that if I were to talk about all tracks after "Instigate to Annilihate" I'd use all the words I have here. It's so rewarding to write about an album that defies us. That makes us think over and over again just to try to explain what changed and what is going to be the next change. Well, if that would be possible at all. It makes us proud to part of this powerful and meaningful movement. Metal forever, my fans! That's all I have to say.
Disquiet "To Annihilate" was released on May 06th via Soulseller Records.
Track Listing:
Rise of the Sycophants
Demonic Firenado
Designed to Violate
Instigate to Annihilate
Wrecked
No Moral Dignity
Destroyance
Sicario
A Dying Fall
The Final Trumpet
Watch "Wrecked" official music video here: