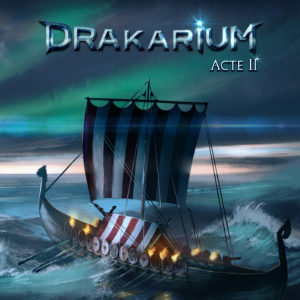 The fan that follows my reviews noticed that my opinion about Power Metal is that, besides Doom Metal, it's a little predictable. I mean, when you listen to an album from a new band you have some certainty of what you'll listen. I say as well that I no problem with that. Some things simply are this way. The same fan may also noticed that I always say that I love to be proven wrong. That's the reason I'm writing this review about Drakarium and "Acte II," an album that proved me wrong about the predicability of Power Metal.
First of all, I have to say that I found "Acte II" a bit uncanny due to the weird and unlikely mixes and melts did in Drakarium the album. Go straight ahead to the intro of "Humour au clavier" and the fan will get what I mean. For everything I saw here I guess that Drakarium took very seriously the quest of changing the heart of Power Metal forever. The album will sound a little strange even to most loyal fan. But, as a matter of fact, this is the most interesting thing of the album. 
At the beginning with "Prélude" the most perceptive fan will notice some slight touches of what is to come. The classical drive of the track hides the sounds of a keyboarding that will be part of all the album. However, the track is pretty beautiful and works as an appetizer for the rest of the album. This classical drive will diminish throughout the album and by second track "Étoile à tribord" the fan will hear some background noises that aren't exactly common in Metal music. Of course, most of Power Metal features are there as well. The epic chanting and choruses, the guitar lines, but if the fan pays close attention there is something different. However, it's "Tournesol" which brings the most surprises to the album. By the beginning the fan will notice some different cadence and tones. But, by the first minute, there comes a tango sequence… Or something similar to it. Also pay attention to the tone of the keyboarding. Pretty odd too.
Well,  "Acte II" is for the fan that is open to new sonancies inside the genre he loves. It's surprising for that same reason. As you know I always hail efforts like this one.
Drakarium "Acte II" was independently released on June 24th.
Track Listing:
Prélude
Étoile à tribord
Pacifica
Jo le viking
Tournesol
Révolution
Neige éternelle
Humour au clavier
Vegvisir
Watch "Étoile à tribord" official video here:
972