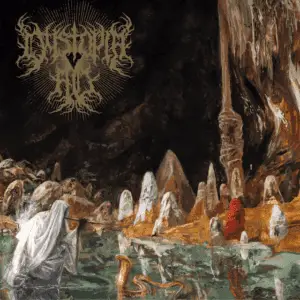 First time I met Dystopia A.D. I was really impressed by the musicianship and the musical prowness of the band. With 2020's "Rise of the Merciless" the impression couldn't get better. The combination of more technical stuff and even some jazzy and avant-garde things I highlighted there is present here as well. It's not only the technical matters that really matter, but also the way the band combines its influences and the musical ideas making it very complex and, at the same time, very pleasant to my dear child of the night. The combination of two kinds of vocals make the day here. First, the harsh and acid vocals that in some twisted way made remember Rob Halford's from the "Painkiller" era gets the fan by the guts. On second thought, it addresses a little bit more to Grave Digger's Chris Boltendahl's acidity and corrosion. To be really franck, first time I heard "As Skies Collapse" the first thing that came to my mind was Judas Priest's "Painkiller" due to the insane drumming smashing and the vocals. The track has that same deranged initial intro with the never stopping headbanging invitation. By the way, as we're talking about drumming tittle track "Doomsday Psalm" and, as a matter of fact, all the album have some crazied blast beats that makes my dear child of the night drools.
Here in "Doomsday Psalm" the band makes some more unexpected combinations as at the end of "Force-Fed Soma" and the beggining of "Howl of Barghest" with some jazzy stuff mixed with some oriental mooding. More interestingly, Dystopia A.D. put those passages in a way that my dear child of the night will think of them as background. It would be so easy to label Dystopia A.D. and "Doomsday Psalm" as Melodic Death Metal, but that would be unfair to a band that works so hard to make a difference in the world of Extreme Metal. Not only for the out of the box musicial combinations the band does, but also for the the neat and carefull way the band builds up their songs. "Imperial Dawn" has the exact doses of agression and melody with an insanely well performed performing. Very hard to believe that the band is the outcome of only two musicians. Pay very good attention to the initial guitar phrasings of "Lost Shores" and its amazing mooding. Hard to tell it's the outcome of only two people. Really hard. It reminds a lot a band we don't say the name in its top with "…And Justice for All?" – no need to say the name of the band.
Dystopia A.D. "Doomsday Psalm" will be released on December 02nd.
Track Listing:
Imperial Dawn
Terminal Lucidity
Fields of Carrion
Force-Fed Soma
Lost Shores
Doomsday Psalm
As Skies Collapse
Howl of Barghest
Watch "Imperial Dawn" official video here: