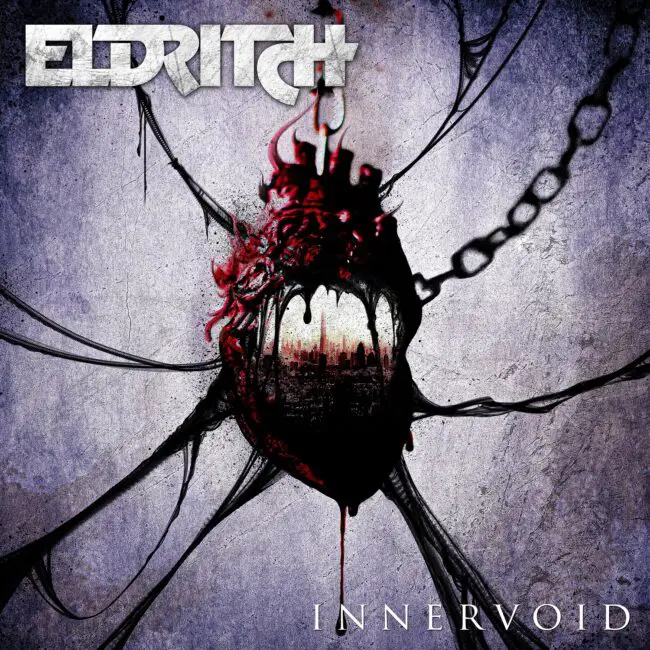 It's impressive how Metal music can vary even around the same subgenre. Two Metal bands of the same Metal subgenre are never the same. There is always something that makes them different from each other. Some differences are slight; others are strong. I'm talking about Blind Man's Daughter with "Sundressed" and today's subject Eldritch "Innervoid." Both define themselves as Prog Metal but, wow, they couldn't be more different.
"Innervoid" is of the Power Metal Prog Metal type. Yeah, it's written like this. I'll elaborate. In a nutshell, what Eldritch play is Power Metal with some Prog Metal elements. They get a Power Metal basis and add Prog Metal elements. The balance varies in each track, but Power Metal prevails. However, most of the Prog Metal elements comes in the way of Classical Music. That's a fact. Or some 1970's Prog Rock influences as the keyboards in "Elegy of Lust."
Interestinly, both bands have their prone to pop approaches. "To the End," for instance, has the same vocals highlight pop bands do leaving the instrumentals are in the background. The track is followed by the power ballad "Wings of Emptiness" whose piano makes it very melodic and with a strong pop approach though the heavy guitars now and then. The same way of doing different things. Or, a different way of soing the same thing.
"Innervoid" balances the Metal with the Prog with strong slants of Power Metal. Tracks were planned to fit both at the same time. The problem is that sometimes this isn't really possible, but everyone is invited to try. I can't say Eldritch didn't do a good job here because they really did. Even "From the Scars" with its 1980's dance slant intro works fine when the guitars take over. It's Eldritch way of doing things and I respect that.
Eldritch "Innervoid" will be released on November 17th via Scarlet Records.
Track Listing:
Innervoid (Intro)
Handful of Sand
Born on Cold Ash
Elegy of Lust
To the End
Wings of Emptiness
From the Scars
Lost Days of Winter
Black Bedlam
Forgetten Disciple
Watch official music video here:
1886