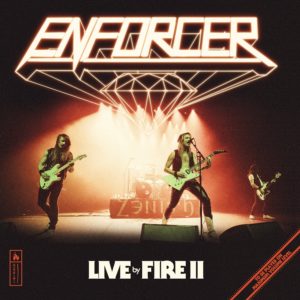 Ah, live albums. The buzzing of the crowd and the amplifiers, the voices of people having real fun with their preferred band, the cries and the shouts, the feeling of leaving the place deaf, the long await in lines talking to everybody about the band and the albums, sharing impressions, and all and all. It's possible to go on forever. Listening to Enforcer "Live by Fire II" it's impossible not to feel nostalgic of all this considering that alive shows will be off the map for quite a long time.
I told in an due review that when I think of Metal what comes to mind is a Speed Metal tune. I can't explain why I make this analogy. I guess it's an unconscious thing. But I can't even imagine a better place to be than in a Speed Metal show and this Enforcer "Live by Fire II" is the nectar of the gods. The album was recorded in Mexico City, 2019 in front of a wild and hungry for Metal crowd as it's possible to hear here and there. The communication between vocalist Olof Wikstrand is sometimes funny as in "Katana" when he says he can't truely hear the crowd –  by the way, what a great tune. Funny thing is that when I received the album I thought of other band as the name Enforcer and its likes are pretty common. However, I can't express how pleased and satisfied I was when I started to listen to the album and read about the band which is one of the many bands that are bringing back the timeless sonancy – as they say – of Speed Metal. In the show the band performs their albums "From Beyond" and "Zenith" during the years 2015-2020. Good to know them at all. One more band added to my list.
"Die For The Devil" gave me the goose bumps because it reminded another band that I like a lot: Bitch. Needless to say that I confused Olof Wikstrand tone of voice with Betsy Bitch's. Not a shame at all, if you ask me. In fact, it's a cumpliment because the girl is such an example and Bitch is a stapler of Metal music. By the way, the first guitar solo of "Destroyer" reminds a little Metallica – hum, of course from the good old times of the band.
Enforcer "Live by Fire II" is a great piece of today's bands even though they are making the good old sonancy of the past. Great live album from an even greater band.
Enforcer "Live by Fire II" will be released on March 19th via Nuclear Blast Records.
Track Listing:
Die For the Devil
Searching for You
Undying Evil
From Beyond
Bells of Hades + Death Rides This Night
Zenith of the Black Sun
Live for the Night
Mesmerized by Fire
One Thousand Years of Darkness
Guitar Solo + City Lights Jam
Scream of the Savage
Drum Solo
Run for Your Life
Take Me out of This Nightmare
Destroyer
Katana
Midnight Vice
Watch "From Beyond" official live video here: