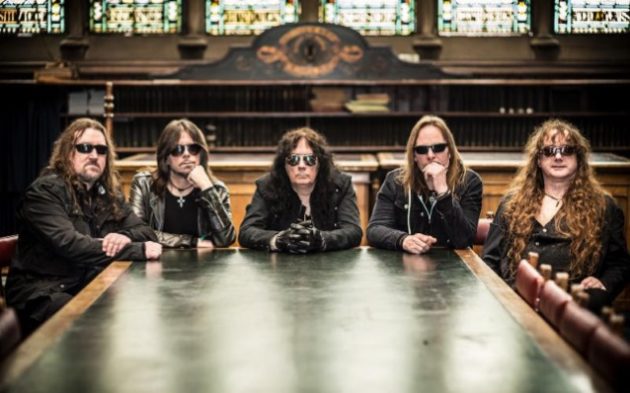 This week Friday, September 7th, Metal Blade Records will release 'Cruel Magic', the brand new studio album by English NWOBHM legends SATAN!
SATAN have now announced a bunch of German shows:
31/10/18 DE – Hamburg – Markthalle w/ROSS THE BOSS/BULLET/PORTRAIT
01/11/18 DE – Bochum – Matrix
02/11/18 DE – Mannheim – 7er Club
03/11/18 t.b.a.
Further SATAN shows:
14/12/18 GR – Athens – Into Battle Festival Vol. 2
26/04/19 DE – Lauda-Königshofen – Keep It True Festival
While standard bearers of the NWOBHM movement and responsible for '83's seminal 'Court In the Act' and '87's 'Suspended Sentence', with their tentative new album SATAN make it abundantly clear that in 2018 they are not interested in simply capitalizing on past glories. Comprised of 10 tracks of searing metal, it is blatantly and profoundly the work of the Newcastle-upon-Tyne natives at their very best, infusing their signature sound with a more raw, wild and spontaneous vibe than they showcased on 2015's mighty 'Atom By Atom', in the process displaying more passion and energy than slews of bands half their age.
Tracking the album at First Avenue Studio, they further demonstrated their trust and rapport with past collaborators, recruiting engineer Dave Curle and Dario Mollo to handle the mix, letting them handle the technical side of things so the quintet could focus all of their energies on giving the best performances. Confident in the songs they had written and how they wanted them to sound made the process a very easy one, walking out of the studio with a record of which they are understandably proud, and will reign supreme in the speakers and headphones of metalheads the world over when it drops in September. "We truly feel we've got it 100% right this time, the balance between considered content and reckless performance. We always break loose on stage so why not on record?"
"Cruel Magic" track listing:
01. Into The Mouth Of Eternity
02. Cruel Magic
03. The Doomsday Clock
04. Legions Hellbound
05. Ophidian
06. My Prophetic Soul
07. Death Knell For A King
08. Who Among Us
09. Ghosts Of Monongah
10. Mortality
SATAN line-up:
Brian Ross – Vocals
Russ Tippins – Guitars
Steve Ramsey – Guitars
Graeme English – Bass
Sean Taylor – Drums