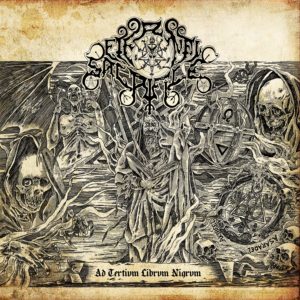 Third Black Metal album in a role. The three albums are very different from each other. But not only different, very different. I'm really proud of what the guys are doing these days. Proud is not really the word. What they do is jawbreaking. The creativity the dudes use to create each track. Also Eternal Sacrifice with "Ad Tertium Librum Nigrum" (Latin for To The Third Black Book) is of a pristine instrumental. What to say of the clean and imposed vocals in "The Vision Of The Light Of The Sculptures In The Monument of Mashu (The Black Book of Signs)." A perfect match with the vibe of the song. Instrumentals also match perfectly.
If you allow me, I'll compare the instrumentals of "Ad Tertium Librum Nigrum" to any of the great Savatage, but with a shrieking and insane voice. The presence of Savatage's instrumental is very clear in "When Angel of Light in Ur, In Invoking The Second Sign Agga" with its strong guitar tone in the riff mixed with the enlightening keyboards. Just to remember, Savatage were one of the first Metal bands to use keyboards properly. So, Eternal Sacrifice would the black metal version of Savatage. Great to me. Take a look how the songs are ordered and their names. Can you wonder how long did it take to build it all up?
I said it once, I'll say it twice, Black Metal bands are the avant-garde of Metal. Listen to "Ad Tertium Librum Nigrum" carefully and enjoy each track. It's an album that deserves a closer look no matter the subgenre of Metal you like most. The guys are teaching a lesson of how a Metal album should be played. "Ad Tertium Librum Nigrum" is a groundbreaking piece of Black Metal. With this album, Eternal Sacrifice give a firm step into the pantheon of great Metal bands. Above all, "Ad Tertium Librum Nigrum" is exciting. It makes you bang your head freely. So, forget your prejudice against extreme metal and enjoy.
Eternal Sacrifice "Ad Tertium Librum Nigrum" was released via Hammer Of Damnation Records.
Track Listing:
Introiro
The Three Mashu's seals – The Conquest of the Ganzir and Arzir Gates (Hazred area)
The Vision Of The Light Of The Sculptures In The Monument of Mashu (The Black Book of Signs)
The Amulet, The Fire And The Seals Of Wisdom In The Course Of A Triple Life
The Revelations Of The First Sigil, Lucifer, After a Saga Of Delusions And Battles 10-06
When Angel of Light in Ur, In Invoking The Second Sign Agga
Nasha, Restitution Of Double The Light (Luce) And Harmony (Fer) – Pagans Calls 10-06
Interludium
The Emptiness, The Guard Of The Sortileges And The Time In Which The Dust Takes The Rites
Epilogue
Watch "The Three Mashu's seals – The Conquest of the Ganzir and Arzir Gates (Hazred area)" official video here: