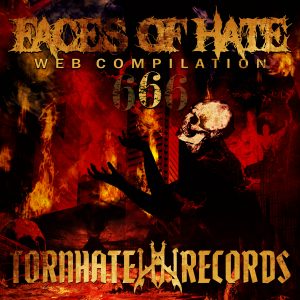 "Faces Of Hate" Vol. 6 brings us 16 tracks of 16 different bands. They're all extreme metal: thrash, death or black. As all compilations, "Faces Of Hate" Vol. 6 has its ups and downs. All this diversity is great to Metal moviment. The themes vary a lot too. The good old fight betwwen evil and good remains still. But in the band's opinion evil wins by far. Check Diabolous' I Am Darkness. It's pure evil. An interesting vocal effort. The guitars are still a bit raw, but that's okay. It works fine.
On the other hand, some bands are ready to strike tops. Sacredeath with "Simphony of the End" is a fine death metal band that deserves to be the opening track for sure. It's powerful, heavy and outrageous. An special attention to Warmony with "Black Dahlia". Warmony try a different style of singing which I call 'the witch voice' that fits perfectly to their effort.
Other bands like Aske with "Mardi Gras" bring a higher atmosphere to the compilation. Their effort brings a bit of groove with an slower pace that amuses us. With very good musicians. And then, things get rougher again with Malkuth with "Anticristum (BELICUS)". A rageous old school black metal that gives some more punch to "Faces Of Hate" Vol. 6.
I guess it's our duty to give a big hail to efforts like "Faces Of Hate" Vol. 6. Just to remember that many bands were discovered by that kind of compilation. It is a chance to new bands finally show their music and go to the next step. So a big hail to Sangue Frio Produções and TornHate Records who made "Faces Of Hate" Vol. 6 possible.
"Faces Of Hate" Vol. 6 is available for download here. You can also download the previous versions here.
Track Listing:
Sacredeath – Simphony of the End
Waking for Darkness – Evil Lurks in You
Imperious Malevolence – Mechanism Of Mayhem
Veumor – FALDB
Metalliance – All That Remains Now
Canserberia – Astral Journey
Diabolous – I am Darkness
Warmony – Black Dahlia
Rituais Profanos – Shadows Of The Glory
Aske – Mardi Gras
Malkuth – Anticristum (BELICUS)
Obscurity Vision – I Can see
Torturizer – Death Emperor
Armum – Battle Of Armageddon
Fusileer – Obssessed by Thrash
Pandemmy – Circus Of Tyrannies