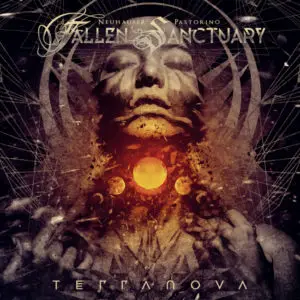 My dear child of the night is witness that I have never whined or complained about Power Metal being predictable. No, no, no. Never, never, never. Untrue. Unfair.
Here we've got Fallen Sanctuary with "Terranova," which if memory serves me right was the name of TV show in the beginning of the millenium. The main theme of both is just the same. That is the state of an iminent catastrophy – better say desaster – that we're living on our planet. It's no news that things are inexorably going into a situation a lose-lose situation. Just a matter of time.
Ok, I was really in the mood of something with an up vibe and "Terranova" just fits as a glove. Uptempo Power Metal with lots of melodies and emotional tunes. Juts the expected. As I said before, sometimes it's great to receive the expected. The kind of album to play when you're down and lonely. Just to enlighten things a little. "Terranova" is a very well-played and performed album. Undoubtedly musicianship at its best. Besides the uptempo tunes and the melodies the album goes by the book. I guess it's just a matter of timing. Maybe the other day I wouldn't like the album and would have passed it. There's no time like the present. There are two ballads in the album what emphasizes the melodic verve I told before. One of the them is the grand finale "Wait for Me" which is more of a ballad with acoustic guitars and lots of sugar. There is also "Broken Dreams" whose tittle speaks for itself. But I guess it's not really a ballad. I guess it would be better labelled as power ballad. By the way, I love choruses like 'Ooooooh' as in "Rise Against the World."
There's no such thing as album opener and tittle track "Terranova" with its super fast drumming and guitars following them just giving the strong tempo. The kind of track that raises the dead. Aggressive and abrasive. The melody contrasts with the drumming and guitars just as it is to be. The one who thinks Power Metal bands never change following track "Now and Forever" is here to prove us wrong – hum, did I say us? A great change of heart.
As you all can see I'm not that grumpy about Power Metal. In fact, I do like it. It's just that sometimes Power Metal is so predictable…
Fallen Sanctuary "Terranova" will be released on June 24th via AFM Records.
Track Listing:
Terranova
Now and Forever
Broken Dreams
Rise Against the World
To the Top
Destiny
I Can't Stay
Trail of Destruction
No Rebirth
Bound to Our Legacy
Wait for Me (Bonustrack Limited)
Watch official video here: