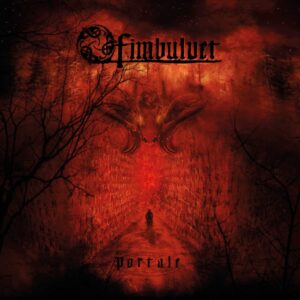 It's possible to roughly and poorly define Metal music as a musical combination of the agressive and the sweet. Modern Metal bands do exhaustely this combination – by modern I mean today's. Some subgenres more than others. The most iconic pieces of Metal music as Judas Priest, as only one example, are roughly this. The intense and relentless acid guitars with vocals that can do more than just sing. Judas Priest's twin guitars are the perfect example of this Metal music dichotomy. Well, Fimbulvet with "Portale" don't have the twin guitars as their staplers, but Metal music dichotomy is present here everywhere. "Portale" is full of melodies contrasting with a rough instrumental most of the time. I say most of the time because there are many strumming moments where melody speaks louder as album welcomer "Schwelle zur Inbrunst" and its classical music grip showcase. The song belongs to that pantheon of songs that are able to express all the emotion possible without being cheesy. The iconic harmonies between the chords give the song an ethereal intent which is reforced by the following chord arrangement. The album manages pretty well all the emotional moments without getting into the cheesy trap.
The fact that "Portale" is in German adds some charm to it mostly in the slow and clean passages where vocals sound pretty clerical. In fact, it also makes some difference in the harsh passages giving them some extra doses of power. Fimbulvet are a band that has really convinced me they do know how to balance both vocals. I guess this is due to the way the band thinks its music preparing it to have lots of melody and clean vocals. For instance, acoustic guitars receive here a lot of room as three tracks are dedicated to them. The album is sandwiched by two gentle songs using acoustic guitars the aforementioned album opener "Schwelle zur Inbrunst" and the grand finale "Patron des Lebens," which has strong voclas. "Schwelle zur Inbrunst" is purely instrumental. To some extent, the tracks where vocals are clean reminds me a lot the mood of the great Blind Guardian and their Tolkien's inspired songs.
"Portale" is for the fans who have a prone to a melody and harsh well-balanced vocals in an album. Here the fan will find side by side Death Metal inspired track interwoven with songs full of gentle melodic passages.
Fimbulvet "Portale" will be released on April 28th Trollzorn Records.
Track Listing:
Schwelle zur Inbrunst
Portale
Neiding
Feuertod
Krieg der Ratten
Drachentor
Wie ein Blatt im Wind
Der finst're Poet
Traumfänger
Patron des Lebens
Watch "Feuertod" official lyric video here:
1727