Mr. Ma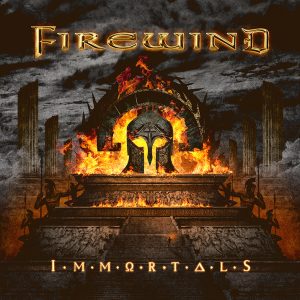 dman is really a talent picker. Just take a glimpse at the names he discovered to the metal world. Now you can add one more: Gus G! To be really honest I didn't noticed how resourceful and talented axeman he was when I saw him with the Madman in a show in 2009. I suppose the ghosts of Randy Rhoads, Jake E. Lee and Zakk Wylde were hauting him. It's  not really easy to replace myths and legends.
I have to say that I really didn't know anything about his former band, Firewind, nor that it's their eighth cd. I must say that listening to Firewind's "Immortals" really changed my mind. What he and his guys did here is very different from Ozzy's, although the beginning of "Live And Die By The Sword" reminds a little some Ozzy's work. Here and there we can feel some Malmsteen's influences, specially in "Hands Of Time" and "Vision Of Tomorrow", but it's only influence nothing more than that. There are also some modern metal touches in some instrumental passages. And they work naturally and fine to Firewind's musical proposal. Firewind is an epic power metal band with all the qualities required to stand up the crowd.
"Immortals" is not only an album, it's a concept album, as Gus G. says, focusing on the battles of Thermopylae and Salamis and the character of Leonidas and his 300 braves against the massive Persian army invaders. Which allows us to think why History teachers don't use heavy metal acts in their classes. That would be a very rich experience by all means.
Firewind's "Immortals" was released on january 20th and the band will have a really busy year promoting it on tour all around the world.
Yes, we gotta say that Mr. Madman really has a great eye!
Track Listing:
Hands Of Time
We Defy
Ode To Leonidas
Back On The Throne
Live And Die By The Sword
Wars Of Ages
Lady Of 1,000 Sorrows
Immortals
Warriors And Saints
Rise From The Ashes
Vision Of Tomorrow
You can watch the official video for "Ode To Leonidas" below: