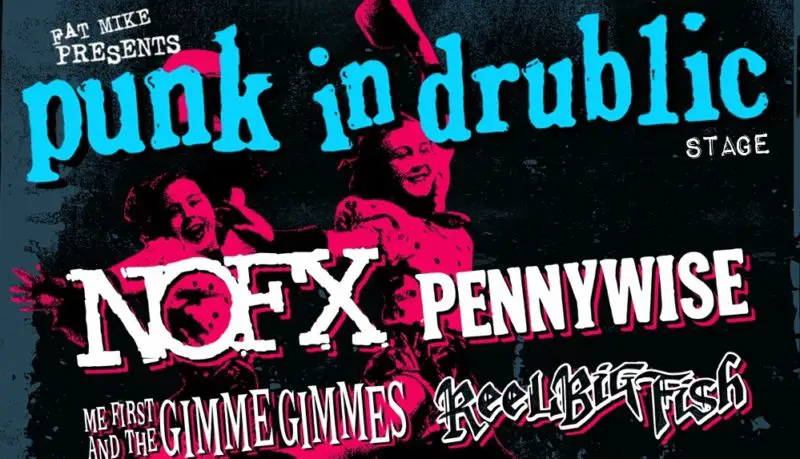 Upset Magazine is reporting that the first bands have been announced for next year's Slam Dunk.
Performing on the Punk in Drublic stage will be NOFX, PENNYWISE, ME FIRST AND THE GIMME GIMMES, REEL BIG FISH, THE VANDALS and FACE TO FACE. COMEBACK KID, DAYS N DAZE and THE BABOON SHOW will also hit up other stages.
The event will take place on 29th and 30th May at Temple Newsam Park in Leeds and Hatfield Park in Hertfordshire respectively. This year's event was cancelled, unsurprisingly, due to the outbreak of COVID-19.
We are pleased to announce the first bands for 2021 alongside the European tour announcement of Punk In Drublic Festival!

We're excited to announce @NOFXband, @Pennywise, @GimmeGimmeDivas, @ReelBigFish, @TheVandals & @facetofacemusic will be back joining us for #SDF21 🤘🔥 pic.twitter.com/DzPYLrM2qF

— Slam Dunk Festival (@SlamDunkMusic) June 15, 2020
NOFX have reportedly been working on a new record in quite sometime. Other than a series of one-off songs – including 2018's "There's No 'Too Soon' If Time Is Relative", last year's "Fish in a Gun Barrel" and this year's "PROBOD" – the legendary California punk band hasn't issued a full-length studio album since 2016's First Ditch Effort.
New records from PENNYWISE, FACE TO FACE , ME FIRST AND THE GIMME GIMMES and REEL BIG FISH are also reportedly in the works, while THE VANDALS haven't put out a proper album since 2004's Hollywood Potato Chip.