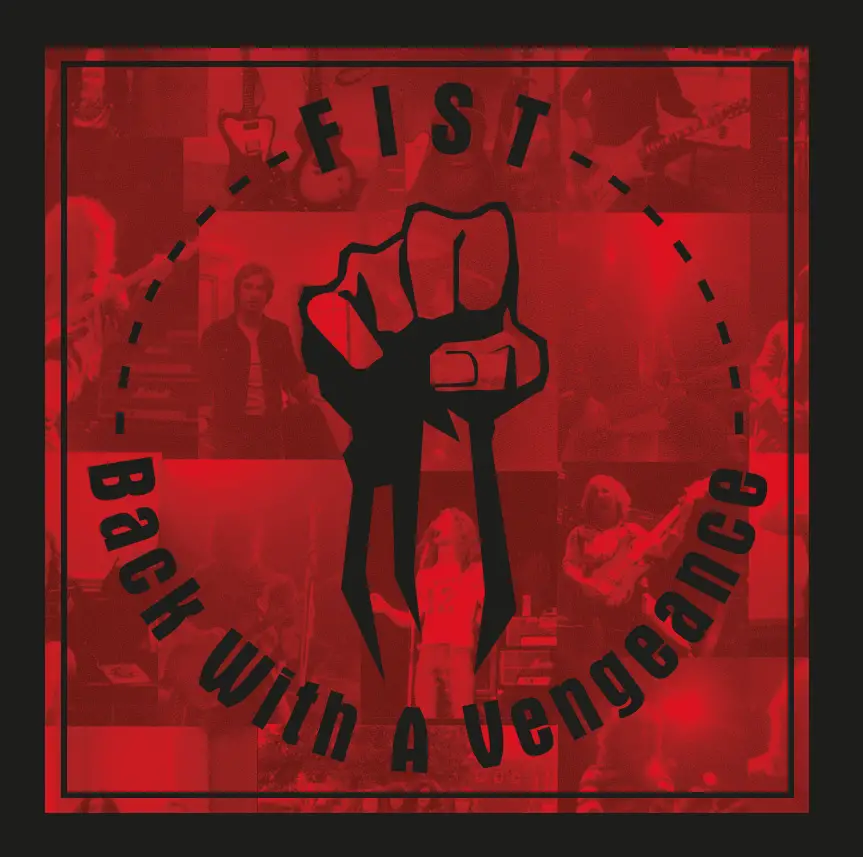 The Guns n' Roses before Guns n' Roses; Axel Rose before Axel Rose. That is what we feel when we listen to the first three tracks of this anthology of Fist, one of the first bands to be considered NWOBHM. Try out the third track of CD1, "You'll Never Get Me Up (In One Of Those)," and you will see what I am talking about. Yeah, this is a double CD release with a total of 33 tracks (?)! Well done, Dissonance Records!
As all compillations, or anthology if you may, there are various different moments, specially when it is a band with some history of member changing, mostly vocalists. Keith Satchfield and Glenn Coates had very different styles of singing. Guitarists hate what I am about to say, but vocalists are the soul of a band. Change them, change the heart. Impossible not to. Compare "Name Rank and Serial Number" to "Lost and Found." Pretty opposite, hum? Great tracks, though. But the same catchy choruses and inspired lyrics with non-metal corpus. The quality of the recordings change a bit too. Even with the great and carefull remasterization Dissonance Records did, some songs are still too thick like "Dog Soldier," with its Uriah Heep taste and inspired guitar riff. The following track, "All I Can Do," has the same grip. As I told before, Fist changed from a plantian, and zepellinian, vocals to a heeping one. I like them both, but a huge change, and in general, fans do not take all that changes. There is also a Status Quo cover, "The Wanderer."
Fist's history is very close to a bunch of semi-known NWOBHM. They disbanded after a few years of ups and downs and regrouped in the beginning of the 2000s, and are still playing. Life sometimes offers second chances, and third…
Fist "Back With a Vengeance (The Anthology)" is another precious gem panned by Dissonance Records.
Track Listing:
CD1
S.S. Giro (Original Axe Version)
Name Rank and Serial Number
You'll Never Get Me Up (In One of Those)
Throwing In the Towel
Turn the Hell On
S.S. Giro
Too Hot
Lost And Found
The Feeling's Right
Dog Soldier
All I Can Do
Devil Rise
Going Wild Tonight
The Wanderer
CD2
Brain Damage
One Percent
Vamp
Hole In the Wall Gang
Axeman
Forever Amber
Watcher
Terminus
Gone Without a Trace
Collision Course
Same Time Same Place
Roll It
Pumping Iron
Give It All Back
Left Standing Again
Where They Are
Dog Soldier (Rough Version)
See the Devil Rise
Law of the Jungle
Watch "Turn the Hell on" video here: