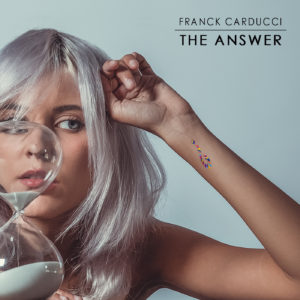 Here an album which echoes directly from the 1970s Art Rock and Rock and that's the beauty of it. Though I think that the world is getting more and more difficult to rockers due to the rise of Metal and the decline of Rock as a true expression of younger generations, this Franck Carducci "The Answer" fits pretty well in the label. We simply have to accept the fact that the future to Rock is in its past. As simple as that. That's exactly what Franck Carducci does in "The Answer" with a deep dive into the 1970s Art Rock, Rock, Heavy Rock, and a little, just a little bit of that sexy jazz some bands used to meld into their music as in "The Game of Life" and its wind instruments which give it a sexy mood as in life.
It is no desrespect to say that "The Answer" could have been recorded in the 1970s. In fact, it is a praise to it regarding its qualities as a Rock music product. If we stick to this representation "The Answer" gets a better recognition. Listen to the bluesy guitar in the beginning of "Asylum" and don't be nostalgic if you can. I get very. Its eleven minutes of an ample variety of instruments as pianos, guitars, and others are simply amazing. The drum solo by the eighth minute is also pretty interesting. I have to ponder that this kind of music was part of my musical education even while a Metal fan. No big deal. Better confess listening to Rock than, uh, let me keep quiet… It is a fact that Metal music benefited a lot as a musical movement with the influences of such music. And, to be really frank, Metal is still benefiting from those influences because they gave Metal a swing it lacked. Not only the swing, but also the melodic and structural solutions many use today.
"The Answer" is the kind of album that won't save Rock from the ostracism it lives on, but it sure is some fresh air. And, moreover, lots of fun to listen an album where musicians respect a very well played Rock album.
Franck Carducci "The Answer" will be independently released on November 28th.
Track Listing:
(Love Is) The Answer
Slave to Rock 'n' Roll
Superstar
The after Effect
The Game of Life
Asylum [feat. Derek Sherinian of Dream-Theater]
On the Road to Nowhere [bonus track]
Beautiful Night [bonus track]
(Love Is) the Answer [radio-cut]
Slave to Rock 'n' Roll [radio-cut]
Watch "Slave to Rock'n'Roll" official music video here: