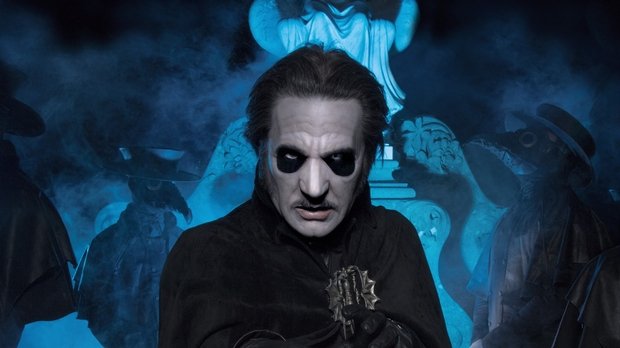 Grammy-winning Swedish rock band GHOST is known for special, limited-edition items that have been tied to its various album releases — an 8-track edition of "Ceremony & Devotion", and for "Prequelle", a seven-inch die-cut-as-rats vinyl disc of the album's first single "Rats", offering the album on a variety of different colored cassette tapes, and the lenticular cover for "Prequelle"'s special vinyl edition as well as five alternate covers for the retail edition.
On September 27, GHOST will release a plethora of limited, exclusive items tied to the "Prequelle"album and world tour: the deluxe collector's edition, "Prequelle Exalted", with only 5000 sets produced. Log on to ghost-official.com for all purchasing information.
Included in the "Prequelle Exalted" deluxe collector's limited edition will be:
* "Prequelle" limited edition transparent orange with black smoke colored vinyl 
* 60-page arena tour photo book, hardbound and wrapped in black gator skin 
* Exclusive die-cut "Prequelle" artwork with a 12-page booklet featuring brand-new, mind-blowing illustrations 
* Four 12″ X 12″ live photo prints 
* Bonus 7″ with two GHOST rarities 
* GHOST 7″ vinyl adapter
For the arena tour hardbound photo book and the exquisite, suitable-for-framing 12″ X 12″ prints, Ryan Chang photographed GHOST on tour over the course of a year, documenting the band's live performances throughout Europe, Canada and the United States, including the special guest spots on METALLICA European "WorldWired" stadium tour this summer. The 12-page booklet of new prints was created by GHOST's longtime visual collaborator Zbigniew M. Bielak, offering 10 stunning illustrations, each one a visual representation of the 10 songs on "Prequelle."
GHOST will kick off its fall/winter North American "Ultimate Tour Named Death" headline arena trek on September 13. You can get the tickets here.
In a recent interview with Revolver Magazine, Forge talked about the musical direction he wants to pursue with the band's next album.
The musician pointed out he is aiming to "make a different record" from the latest GHOST effort, 2018 Prequelle, which he described as "a little ballad heavy." 
Tobias added: "I want it to feel different. If I dare to say 'heavier,' people think that it's going to be MERCYFUL FATE all the way … but I definitely have a darker, heavier record in mind."
GHOST's latest album, Prequelle, was released on 1 June 2018. The album marked the band's strongest selling debut to date, landing at number 3 on the Billboard 200, selling 66,000 copies in its first week, with 61,000 of those being "traditional" album sales.