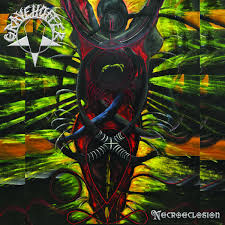 I'll make an uncanny comparison, but I guess it will fit just right to what I listen here with Gravehuffer "NecroEclosion." Small and obscure bands are for Metal music the same as small businesses are to capitalism. They are the source of new and bright solutions and for that reason are considered the future and where the hope rests. I guess it all makes some sense.
All the eleven tracks of "NecroEclosion" have the fine taste of innovation and freshness. There are real rare moments in the album where the band shows that it is possible to mix the spirit of rebellion and innovation; that is possible to be cutting edge without selling out. The formula of Gravehuffer? To join together the rawness and rebellion of punk with the spirit and the music prowness of Extreme Metal. The outcome is an outstanding album with memorable songs that stick into your mind. With no selling out I repeat.
"NecroEclosion" shows that the thing of real Metal music is the musical chaos and anarchy. There are elements of all extreme facets of Metal here from the doomy Doom until the fastest Grindcore. Therefore, they are all mixed toguether in an explosive and blasting way that only Gravehuffer are able to make. Opening and second tracks "Custom of the Sea" and "Hellhound" show that in a bright way that leaves no room for misunderstandings. The band is a rotten version of everything that has been done in Metal music. And that makes all the difference.
Useless to say that all tracks have something that attracts the fan at first sight. The punkish choruses to the Death Metal complex music writings and out-od-the-mind guitar solos as in "Sights to the Sky." And Gravehuffer  finds the time to write songs as "Death Before Disco" where they mock all dancing fools around the world and show what Metal should be all about. The beginning of the song may strange the fan, but soon the song takes its way and turns out into a fine piece of Metal mockery. The formula is then repeated in two more tracks. But I'll leave that to the fan to check them out.
"NecroEclosion" is a no miss album.
Gravehuffer  "NecroEclosion" will be released on January 15th via Black Doomba Records.
Track Listing:
Custom of the Sea

Hellhound

Sights to the Sky

Death Before Disco

Stingray

Smaller Than Death

Ghost Dance

Quarantine Death Machine

Causes

Backpack

Mad Wolf
Watch "Ghost Dance" official video here: