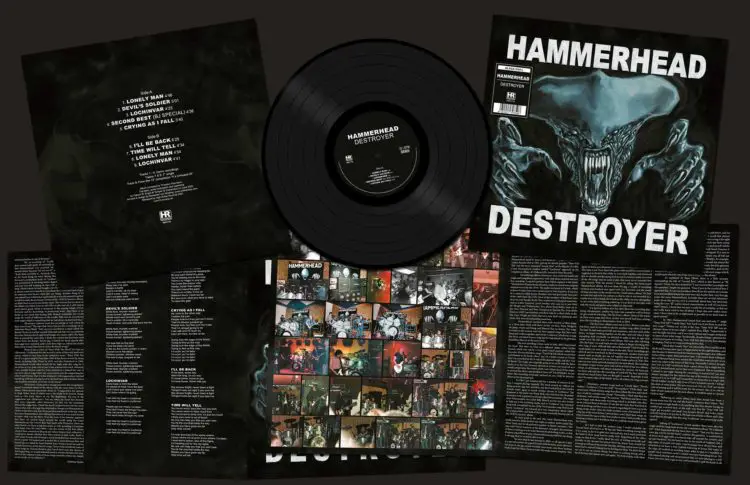 Cumbria's HAMMERHEAD were one of the most talented outfits to evolve from the New Wave Of British movement of the late 1970s. They came together at the turn of the decade after the demise of various small-time acts such as Judas, Bitter Harvest and 8 Hertz.
After a few tentative appearances on the regional club scene in the early days, the group first came to public attention via a well-received demo tape. Although their signature tune "Time Will Tell" gathered some very encouraging local response, labels like Neat, Heavy Metal Records or Guardian never got in contact with the band. Instead HAMMERHEAD opted to issue a self-financed 7" single on their own Linden Sounds label in 1981, pairing the already popular "Time Will Tell" with the more restrained "Lonely Man" on the flipside. In 1984, a new HAMMERHEAD number entitled "Lochinvar" appeared on the compilation album "It's Unheard Of!" (issued by Sane Records).
The anthology album "Destroyer" now unites the band's sole single and compilation appearance with early demo material and rare live recordings.
"Destroyer" contains songs such as "Lonely Man," "Devil's Soldier," "Lochinvar," "Cry As I Fall," "Second Best," "I'll Be Back" and many more. "Personally, I think that they are all decent, well-written songs," comments long time guitarist Buzz Elliot today. "But Brian Hodgson (guitar, vocals, keyboards) and Steve Archer (bass) were never happy with these early recordings, which is probably why they never released them at the time. It was the first time they had tried to record anything and they were a bit naïve regarding the best way to do things in the studio. Also, the studio facilities were a bit limited. I was a big fan of the band before I joined them and I liked their songs, so when I heard the tapes of that first studio session, I did actually enjoy listening to them, but I also knew that we could do much better given the chance."
"The next recording session came in 1981," continues Elliott, "after I had joined the band. This time we went to a different studio called Linden Sounds, which was run by a very good sound engineer called Guy Forrester. We recorded three songs: 'Time Will Tell,' which was my first contribution to the band, when I was 19, a better version of 'Lonely Man' was recorded for the B-side of the planned single, and also 'Ton Of Bricks.' The single was originally going to be an EP with the three tracks on it, but Guy Forrester advised us to leave one track off as it would compromise the sound quality and volume level of the single, so we took his advice and decided to leave off 'Ton Of Bricks.'"
Read our review here.