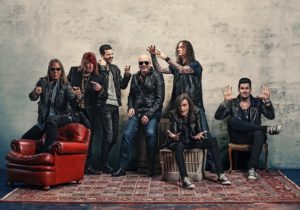 The 'Pumpkins United' Tour, or as it is mostly known, Helloween's Reunion Tour, gathered together vocalist Michael Kiske and guitarist Kai Hansen leaving intact current line-up, ended this Saturday (December 22nd) in their hometown, Hamburg, Germany.
With a long set including songs that were being performed in other shows as "Eagle Fly Free," "Future World," "If I Could Fly," and "I'm Alive," the show had Kiske and Deris sharing vocals in songs as "Halloween," "Dr. Stein," "Perfect Gentleman," and "Keeper of the Seven Keys." And yto get even better a pot-porry of their debut full-length "Walls of Jericho" with Kai Hansen on vocals.
As previously announced, Helloween will release an alive effort in CD, DVD and Blu-Ray in 2019. Details, though, haven't been announced yet. Furthermore, an album will see the sun in 2020 with this extended line-up.
Watch some videos of the show in Hamburg:
Set List:
Halloween (Michael Kiske & Andi Deris)
Dr. Stein (Michael Kiske & Andi Deris)
I'm Alive (Michael Kiske)
If I Could Fly (com Andi Deris)
Are You Metal? (com Andi Deris)
March of Time (Michael Kiske)
Perfect Gentleman (Michael Kiske & Andi Deris)
Starlight / Ride the Sky / Judas (Kai Hansen)
Heavy Metal (Is the Law) (Kai Hansen)
A Tale That Wasn't Right (Michael Kiske & Andi Deris)
Pumpkins United
A Little Time (Michael Kiske)
Waiting for the Thunder (Andi Deris)
Sole Survivor (Andi Deris)
Power (Andi Deris)
How Many Tears (Andi Deris, Michael Kiske & Kai Hansen)
Encore:
   17. Eagle Fly Free (Michael Kiske)
   18. Keeper of the Seven Keys (Michael Kiske & Andi Deris)
Encore 2:
    19. Future World (com Michael Kiske)
    20. I Want Out (Michael Kiske & Andi Deris)