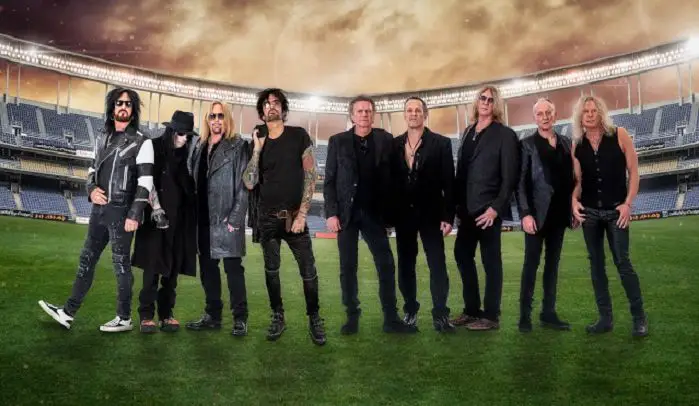 MÖTLEY CRÜE and DEF LEPPARD's "The Stadium Tour" sold 1.3 million tickets and earned $173.5 million, making it the biggest tour of either band's career, Billboard reports.
The biggest market on the tour, which featured support from POISON and JOAN JETT & THE BLACKHEARTS, was Boston, where the four acts performed two concerts at Fenway Park on August 5-6 and sold 64,000 tickets for total earnings of $9.3 million. Four individual shows broke the $6 million threshold: Charlotte, North Carolina; Denver, Colorado; Glendale, Arizona; and Inglewood, California. Average nightly earnings hit $4.96 million.
"The Stadium Tour" averaged 37,520 tickets each night, drawing more than three times the audience that each band previously reached on their own.
Vince Neil recently assured fans that MÖTLEY CRÜE will continue to tour internationally, with plans to return to the U.S. in 2024.
"We're far from being over," Neil told John Katsilometes of the Las Vegas Review-Journal. "When we come back in '24, we're going to do it all over again."
Neil also confirmed that there are talks of CRÜE returning for a third residency in Vegas, where they previously played a series of shows at the Joint at the Hard Rock Hotel in 2012 and again in 2013.
"We have definitely talked about doing it, and everybody loves to do the residencies, so I say, 'Yeah, we're gonna do it,'" Neil said. "We just have to look at sometime in '24, to be back in Vegas. But we will be back."
He also said that band will only stick to touring and that there are no plans for new studio album.
"We are strictly a touring band," Neil said. "When you see this show at Allegiant, you'll see why. You're going to see something that's unbelievable, lights and lasers, three dancers. There are a lot of cool special effects, and a cool band putting on a rock show."