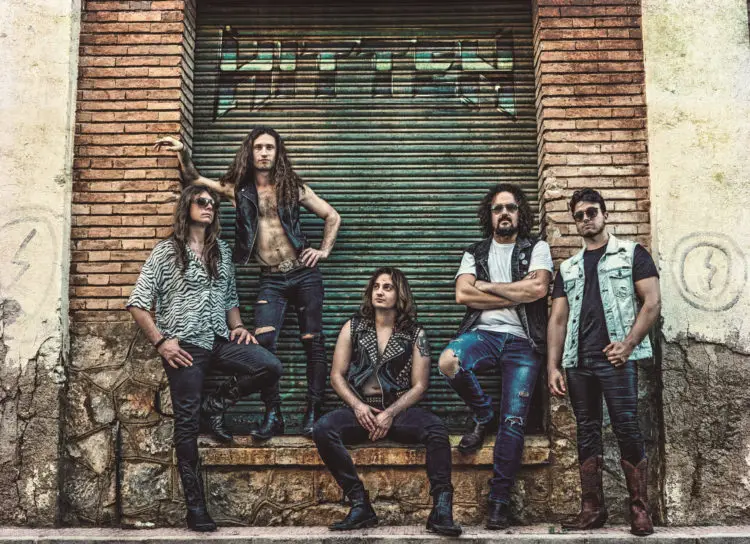 HITTEN formed in 2011 in the city of Murcia in the South-East of Spain (near Alicante). The same year the band issued their first demo entitled "Darkness Queen." Two EPs and one full album entitled "First Strike With the Devil" (2014) followed, before Hitten signed to High Roller Records for their second fulllength record "State of Shock," which was released in 2016. It was a clear improvement on the band's rather naïve debut effort, altogether a more rounded effort.
"Twist of Fate," HITTEN's second album for High Roller Records, saw the light of day in 2018 and was well-received by press and fans alike. "The reaction has been great and we're still very proud of "Twist of Fate," confirms singer Alexx Panza. "It helped us reaching out to new fans and has been appreciated by most of the old fans too. Despite the change of the singer, which is always problematic."
Alexx had joined HITTEN for "Twist of Fate" and on the brand new record "Triumph and Tragedy" he is doing an even better job than on the last one. "'Triumph and Tragedy' has been recorded during the summer of 2020," explains the singer, "a bit here and there. In fact, guitars and bass have been recorded in Spain, the vocals have been recorded in Italy (where I live) and the drums have been recorded in the Netherlands with the helping hand of Marco Prij, drummer for the thrash metal band Cryptosis and a great friend of the band, since we parted ways with our old drummer."
"'Triumph and Tragedy' is the natural evolution of the band's sound," Alexx Panza continues. "Where 'Twist of Fate' started bringing some hard rock vibe into HITTEN's heavy metal, "Triumph and Tragedy" takes it one step further by enhancing this melodic, late 80s/early 90's approach to deliver a total hard 'n' heavy sound."
"Triumph and Tragedy" talks about fate, about destiny, about faith," is Alexx Panza's summary of the album's overall concept. "You never know where the path you chose will lead you, it might be triumph, it might be tragedy. Every day we make choices and every day we have to deal with the choices we made … That's just the way it goes … but don't be scared of the path that is more tortuous, just keep on following your own direction, and be wary of the easy way … you never know what you'll find at the end."
Read our review here.