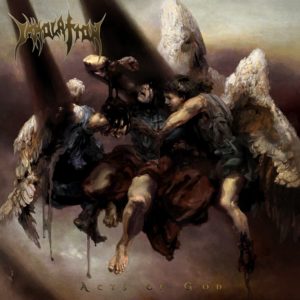 Immolation are like a legend in the world of Death Metal. The Extreme Metal fold has a reputation that preceeds themselves. Even someone who doesn't like their music know the band. This new album "Acts of God" comes to reinforce the band's reputation as one of the cruelest and bloody band of all times. Also to reinfore the band's reputation of being extreme talented musicians who make it possible to sound as Rush in the track "Noose of Thorns" when the drums sounds as if it were Neil Peart. Impressive, pretty impressive.
This album "Acts of God" shocases a band that found the perfect match between aggression and heavybess with technical prowess. As I said many times, there is a limit for velocity in music and to match technical prowess with it is very, but very difficult. Immolation do that with flying colors. It's also impressive how the fold is incredibly skillful in creating moods and change of cadence and rhythm. I recommend my fan to listen carefully to "Overtures of the Wicked" and notice all the moods the band goes through it. The livid guitars help a lot in doing so. For a great example, go to the eighth track "Immoral Stain" and pay close attention to the guitar work to check it out how creative they are. If you are in the mood for some altered and uncanny licks and guitar passages check "Incineration Procession" as well. How about the drumming? Well, the drumming is always a highlight in Extreme Metal music but here it is beyond humanity. What master Steve Shalaty does here is really incredible even though we're talking about a genre where the drums always stand out. Not enough to say that I felt that Neil Peart would be really honored to listen to "Noose of Thorns" drums.
As a feature of Death Metal bands but here taken to the other level is the ability of inserting into the musical chaos some groove. Immolation deal with the breaks majestically. The guitars have a special of doing it in many and varied forms which makes "Acts of God" an album not only to headbang at large but also to pay close attention to the instrumentals. "When Halos Burn" showcases that Immolation are als able to sound pretty Old School when they want to. The song is relentless with as a non-stop killing machine.
I always say that is a pleasure and a honor to review the big guns especially the veterans of the metallic wars. Those albums all the time show why some bands are considered classics and why they are revered. THat's exactly the case with Immolation, a legend to the Extreme Metal world with all the reasons possible.
Immolation  "Acts of God" will be released on February via Nuclear Blast Records.
Track Listing:
Abandoned
An Act of God
The Age of No Light
Noose of Thorns
Shed the Light
Blooded
Overtures of the Wicked
Immoral Stain
Incineration Procession
Broken Prey
Derelict of Spirit
When Halos Burn
Let the Darkness In
And the Flames Wept
Apostle
Watch "The Age of No Light" official video here: