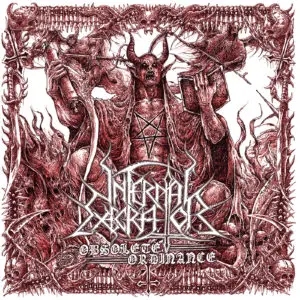 You asked for it, you got it. Metal Addicts is always at your services. Here's a more vigorous black metal act. Pure musical butchery. Infernal Execrator make no concessions at all in "Obsolete Ordinance." Take my advice and begin with the last, but not the least, "Absolute Celestial Condemnation" an absolute steamroller of pure musical cruelty. Almost eight minutes of the most vicious black metal Infernal Execrator can provide you.
"Obsolete Ordinance" is an album made of the most infamous rage and wrath a band can feature. It's a very decent musical payback to all the religious hypocrisy. Infernal Execrator learned pretty well all their previous masters of darkness from the 1980s and 1990s. Pay close attention to the opening track "True Blasphemous Conqueror" and its almost martial cadence. But my best choice is the killer intro "swingful" cadence of "Quintessence of Timeless Void" which goes suddenly into a straight-ahead and into-your-eyes musical punch. The mesmerizing guitar riff is really something atrocious.
This is an album to be suggested to all your friends who are iniciated into the black arts. I wouldn't do otherwise because "Obsolete Ordinance" is only for the strong at heart. It's for whom know how to appreciate the musical dark arts. It's a band like Infernal Execrator which makes me wonder how strong Metal scene is worldwide. You can go to any hellhole in this planet and you'll find a great band with no hard effort. In fact, there are Metal mates anywhere. Therefore, with this internet thing things got even easier to know bands all around. And even easier to form a  band. The wonders of technology. Funny fact is that they though it would kill Metal, but it didn't. It made us stronger.
Infernal Execrator "Obsolete Ordinance" will be released on July 27th via Pulverised Records.
Track Listing:
Infernal Execrator (True Blasphemous Conqueror)
Incinerate Halakhah Theorem
Scions Of Irreverent Bloodshed
Northern Superiority
Quintessence Of Timeless Void
Supreme Barbarous Ordo
Obsolete Ordinance
Absolute Celestial Condemnation
Watch "Baphometerror Invocation" musical video here: