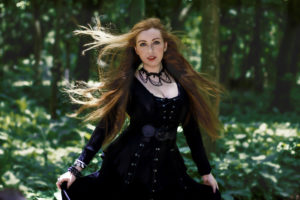 Metal Addicts – Hello, my boys and girls, specially the girls. Today we have Lyria's Aline Happ talking about a very important subject: women in Metal. It's such a great honor to be talking to you again about such an important subject that is women in music. From where I'm standing there is an important agenda to be discussed and women rights is certainly one of them. I like to remember a FB post of Kabul in 1979 with women going to college with regular clothing and a modern picture with women in burkas not going to college, or even school. The message to read was that society has to watch over rights not to lose them, which can happen very quickly. First of all, how does it feel to be the single woman in a Metal band surrounded by three men? Do you feel you have to be stronger to make your points?
Aline Happ – Hello, thanks for the interview. It is always important to address this kind of subject. In my case, it feels completely normal. I am a natural leader since I was a child, even when I didn't want to be. In the band, I work with nice people and we are not only co-workers, but also friends. Moreover, I am the founder, the singer and the head of Lyria, so they know better that they should listen to me (laughs).
 Metal Addicts – Women's presence in rock and Metal has a very particular way to be. Though some genres into rock have a large participation of women as audience, there aren't so many women as musicians. When it comes to Metal, things get a little worse because women are a minority into the audience and even a smaller part of musicians are female. It seems sometimes that there are musical genres for women and for men. Bottomline, pop is for women and Metal is for men. Why do you think there are few women into Metal as audience and as musicians? What is your opinion about it?
Aline Happ – It is true, we have many more male than female fans and we can observe this as a trend in the metal scene. I believe it is more a historical and cultural thing and because there are many more female models to be followed in pop, for instance, than in metal. So, it becomes a kind of deadlock situation: we need more women as audience to later become musicians, but we need more successful female musicians to attract more women as audience. Despite it, many people that are not familiar to metal think it is noisy and aggressive, so there is a prejudice with this genre. In this sense, I believe it is more common among women, because some of them may associate this supposed aggressive behavior to a man thing.
 Metal Addicts – I've been reviewing albums for two years and a half and I remember of reviewing only one all-female band. I still remember the name, it was Jenner from Servia, I guess. The number of female singers is far larger than guitarists, drummers or bassists. Why do you think this happens?
Aline Happ – Well, as we talked before, there are not as many famous women musicians in metal as men to inspire new ones. Said that, statistically, it is easier to find a woman in a band than many women together in the same band. About having more singers, I believe that it is because they are generally in more evidence, so they become role models and they inspire other women. Also, I believe some women have been discouraged by some people about playing some kinds of instruments during the history, because the instruments were too heavy for us, or we would look "masculine" playing them, etc.
Metal Addicts – I love female bands, and I said that a lot of times at Metal Addicts. Female bands have a different approach, different lyrics, the playing is somehow different. One of the albums I love most is Phantom Blue's self-titled, an all female band. I love bands as The Runaways, Lita Ford's solo career, Doro, and many others. Who are your female influences? Do you have a role model?
Aline Happ – Can I disagree with you (laughs)?
Metal Addicts – Of course you can. We're here for you (chuckles). You're the guest.
Aline Happ – I really like a lot of female bands, however I don't see this difference in the approach and lyrics. I think this difference is more related to the band's style. So, I don't care if it is a woman, a man or even a mascot playing (laughs), I just want to enjoy the music. My main female influences are Amy Lee, Cristina Scabbia, Floor Jansen, Sarah Brightman, Sharon den Adel, Simone Simons and Tarja. Nowadays, I believe I am becoming a role model to myself and to people.
Metal Addicts – We posted an article the other day about a research conducted by Fender Guitars in the U.S.A. and the U.K. saying that 50% of the guitarists are female. Nita Strauss told the same in an interview about the audience. Do you think things are slowly changing? Have you ever gone through any sort of trouble for being a woman in shows? Has anybody treated you differently? Have you ever felt that if you were a man it wouldn't be that way? Please, tell us if it sometimes bothers you.
Aline Happ – I gladly believe so! A lot of things have already changed for better. I never had problems in concerts. In fact, metal fans in our style are usually very respectful. I can't tell if I had a particular problem because I am a woman, at least nothing that was explicit. I think what bothers me most nowadays are some online behaviors from people that are not fans and act like completely idiots.
Metal Addicts – Brazil, Lyria's home country, is one of world largest countries in violence against women. Unfortunately, things don't seem to be changing. Brazil's recent presidential election put in charge a group that clearly don't respect women's or any other minority's rights. Many people are afraid what it is to come.
Aline Happ –  Unfortunately, the violence has been a problem in Brazil. We must always fight for our rights no matter who is in charge. Also, it is always important to keep the hope and believe that things will constantly change for better.
Metal Addicts – Okay, it was great talking to you. At last, do you have any advice to the girls that are about to rock?
Aline Happ – It was my pleasure. We recently released the music video for "Let me be me," one of the tracks of our second album, "Immersion." The lyrics can have different interpretations; here I would like to connect it to girl power. Don't let anyone say what you should do, don't let anyone try to change you. Be yourself and don't give up your dreams. You are strong and capable to do whatever you want to. So, keep believing, working hard. Keep rocking! \m/
Metal Addicts – Thank you very much and keep the Metal flame high!