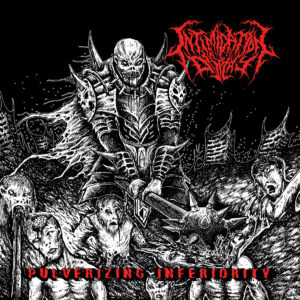 Bands names do tell. Album tittles do as well. When the fan takes a look at Intimidation Display with "Pulverizing Inferiority" there are two chances or to run away or to listen to the album and get mesmerized with the strong and potent sonic mass that strikes the head and melts the mind. "Pulverizing Inferiority" can be at the same time disgusting and repulsive or of a bestial demonic beauty. It depends on what the fan's expectations. Mine are always the higher and the greater ino matter what kind of Metal music the band decides to perform. Albeit as mentioned before some kinds of Metal music don't amaze me and my child of the night knows what they are.
The name Intimidation Display gets even more real when the album is kicked off. Tittle track "Pulverizing Inferiority" asks no forgiviness and goes destroying everything there is in its way to glory. The killing and devastating drumming in conjuring with the sharp guitars and devilish vocals leave nothing behind. Only ashes. The guitar sounds as if it were a sniper. I'll elaborate. Most of the notes played are of a calculate and cold performance as a sniper while targeting the victim. Pay attention at the guitars in "Worthless" to get a glimpse of I'm saying. Disharmony and dissonance are the rule not the exception. So, no need for speed at all. The musical chaos is ready to strike. The music here isn't fast as hell and it doesnt have to be. Each note played here by all instruments is as cold and as lethal as the guitar's. There's no shame to say that "Pulverizing Inferiority" is a killing field spiting bullets and bombs everywhere.
There are only eight tracks in the album. None of them are more than two minutes long. The perfect image of a band that really knows what to do when confronted to a life or death situation. Juts let the blood spill…
Intimidation Display "Pulverizing Inferiority" will be released on April 1st.
Track Listing:
Pulverizing Inferiority
Vociferous Condemnation
Worthless
Ghosts
Necrolepsy
Massacre
Cyclops
Wrong One
Watch "Vociferous Condemnation" official video here: