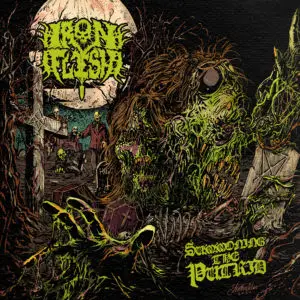 My feeling is that Iron Flesh with "Summoning the Putrid" have finally achieve the status of "very relevant band which made a near perfect mix." Of course, from my own musical standard paterns. I'll elaborate. We are used to a certain array of sonancies organized in labels or genres, if you prefer. Those genres have their own features and sonancies and most of the time artist follow these standards to make their music. It's only the commercial aspect but also the taste aspect that lead artists to write music the way they do. For us, humans, it's very difficult to do something that we haven't already heard or seen. There is a certain expactation that each band while releasing an album to be groundbreaking. That nears the impossible. Albeit, a very effective way of groundbreaking is to mix features and for that reason is what we see many bands doing these days as there are zillion of references for the time around.
Ok, then, here reach the point of saying some nice words to Iron Flesh with "Summoning the Putrid" a Death Metal release that instrumentally use NWOBHM features with some touches of Old School Death Metal and a vocal that is harsh, but not as harsh as it would be in a standard Death metal act. Opening track "Servants of Oblivion" and "Cursed Beyond Death" have clear guitar twin phrasing all over. It's not that the other tracks don't have them. They do. It's that in those tracks this features is more clear. Iron Flesh opted for more cadenced rhythms, not to say slow or even sludge. It guves the band more opportunities to care for other features as vocals and guitar melodies. But pay attention, Iron Flesh with "Summoning the Putrid" aren't Melodic Death Metal in no way for displaying all those characteristics. I believe they're much more Death Metal that combines these references. Well, I have not to say that I appreciated very much the result. Honorable exception to "Incursion of Evil" and "Thy Power Infinite" which dazzling and mesmerizing speed with some interesting rapid fires from the guitars made my day. And the grand finale comes with the moody "Convicted Faith" which gets almost doomy with the slow and full of emotion guitars and instrumentals. In short, Iron Flesh did an amazing job here combining those features. Is it just me or albums get more interesting when they vary speed and cadence?
Iron Flesh "Summoning the Putrid" was released on April 16th via War Anthem Records.
Track Listing:
Servants of Oblivion
Relinquished Flesh
Demonic Enn
Purify Through Blasphemy
Cursed Beyond Death
Death and the Reaper's Scythe
Incursion of Evil
Thy Power Infinite
Convicted Faith
Wacth "Demonic Enn" official lyric video here: