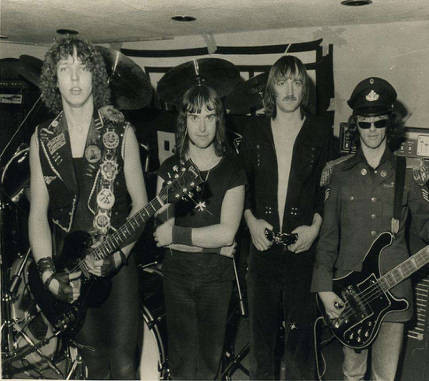 The current re-issue of NWOBHM legends JAMESON RAID on High Roller Records features the band's first two 7" singles plus "Hard Lines" from the prestigious "Metal For Muthas Vol.2" compilation. The sound is far superior to the original High Roller release. Everything has been mastered from the original source. JAMESON RAID singer Terry Dark is more than happy with this ultimate edition of his band's classic material: "I'm really stoked to have our record company, High Roller Records, taking charge of this project. Their professionalism is well known, always a high quality result and I think bands deserve this attention to detail. The re-mastering of these tracks, with the resulting dramatic improvement in quality, clarity and definition has delighted me personally and reflects what modern technology can do. However, behind the dials and switches there is always a man and the guy who did this deserves a big, gold medal."
The icing on the cake will be a bonus single featuring a 2020 remix of the original "Seven Days of Splendour" 7" EP. So this means someone must have found the original master reels of "Seven Days Of Splendour," when and where were they found? "When JAMESON RAID did the 2010 reunion gigs in the UK and at Germany's Headbanger's Open Air, we collected all our old recordings to help us practice," explains Terry Dark. "And amongst the treasures that came to light (and some rubbish!) were the original 7″ studio tape and a master 1/4 inch tape, both in good condition. I've kept them safely at home ever since."
According to singer Terry Dark, the original incarnation of JAMESON RAID came to an end sometime in 1982: "Phil (Kimberley, drums) and I were undoubtedly tired after struggling for years and being hampered, criticized, sabotaged and betrayed by different people at different stages of those years and there certainly was a lot of frustration in the air but at no time did it affect Phil and mine's friendship which continues to this day. And we're both still in touch with Ian (Smith, guitar) and John (Ace, bass) every week about something, even if it's only what's in the news. There were no musical differences; one night we were unloading the van at 2:00 am in the morning and we looked at each other and said: 'Perhaps it's time to stop.' So we did."
Read our review here.