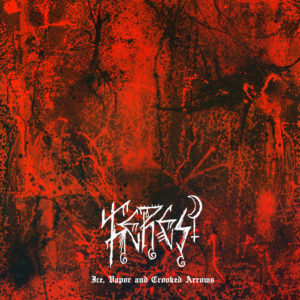 At first, Keres with "Ice Vapor and Crooked Arrows" may sound like an enormeous and indistinguishable sonorous mass of distortion and fuzz. "Dream of Clouds" really sounds as a an eternal fuzz that hurts even the most used ears to Extreme Metal. Well, that's okay, I guess. Thirty years ago this feature was very common to Extreme Metal bands, however it isn't anymore because bands felt the need of having more melody in order to distinguish themselves and, of course, to make themselves audible to fans. Extreme Metal is to obliged to sound extreme, but there are audiable limits to that because the human ear can't distinguish some sounds at very high speed.
Okay, but from "Sleeping Master" things go smoothly, or the most near as possible. Keres made a very smart move then when they kept the fuzzy guitar buzzing sound, but slowed down the speed and added some weird but interesting keyboarding. That move gave them the face they needed. That fuzzy guitar has the same sound as Venom's "Black Metal" which can be also called powerdrive or buzzing guitar or whatever reminds the sound of killing bees coming after you. As I said, it was the very smart move. Interesting fact is that Keres chose to have an almost vociferating vocal. I explain. Vocals are slowly and calmly vociferated throughout the nine tracked album "Ice Vapor and Crooked Arrows." Another fun fact is that "Dream of Clouds" and many of the guitar lines are nearly free jazzly played. I explain, the sonic appearance of them is as free as possible as free jazz musicians use to do. Another smart move.
Aside from the fuzzy guitars there are two tracks that change completely the mood of "Ice Vapor and Crooked Arrows." They are "Moon Guide" and "Instrumental" which is guess what? Aha, if you said instrumental you are absolutely right. I love when bands are so crewative on song titles. Ok, seriously, they are big changes on the mood and sound as if they were mfrom another band. But then things get on track again with "The Tall Ones" which reestablishes the usual noise and buzzing.
"Ice Vapor and Crooked Arrows" is for Extreme Metal veterans only.
Keres "Ice Vapor and Crooked Arrows" was released on August 28th via Ván Records.
Track Listing:
Dream of Clouds
The Sleeping Master
At the Arch of Victories
Grail Dance
The Underworld
Moon Guide
Instrumental
The Tall Ones
Sleeprs below