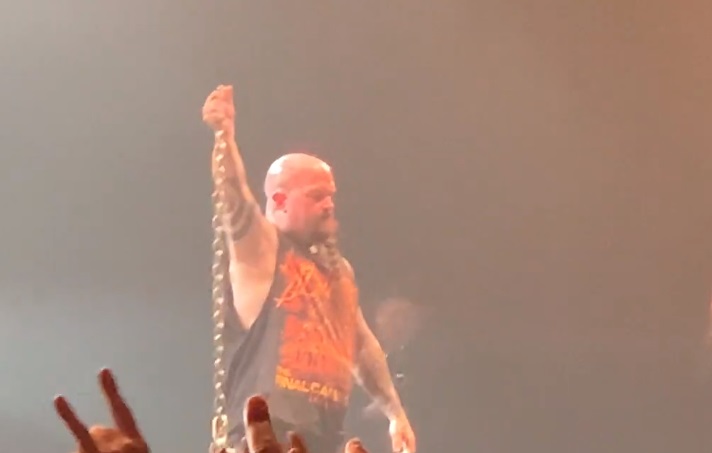 During a recent Q&A on Dean Guitars YouTube Channel, SLAYER axeman Kerry King talked about the band calling it a day in 2018, his influences, favorite bands, and more.
Asked to single out the least favorite question he gets all the time, Kerry said: "It's funny, I can respond to that because it still happens now, and people that have no idea who the f*ck I am — I don't care, I don't expect anybody to know who I am.
"But you know, just your random Joe or your random Sheila will come up and say, 'Hey, did that hurt?' — getting a f*cking head tattoo. I mean, that's just common sense, you know? It wasn't all agony, but some of them were, I mean, that's just somebody breaking the ice.
He added: "And I understand people don't know how to make contact and sometimes people just want to make contact — I get it, but when you hear that question all the f*cking time, that's one of my least favorites."
He also discussed with which musician, doesn't matter alive or dead, he would like to come on stage: "My idol, who is still alive — Rob Halford. A good friend of mine — and he is the f*cking metal god. Somebody sent me last week a picture on his Instagram of him: Rob Halford, wearing a SLAYER shirt.
"I'm like, 'Man, that is…' If you told me that was gonna happen when I got British Steel, I would've said, 'What are you talking about?' My idol loves my band and he supports it, how can anything be better than that?
"You can't just stop there, though," Kerry continued. "I mean, I was lucky enough to play on stage with Dime a number of times, but dude, I would love to play on stage with Dio, I never got the opportunity to do that."
When asked what is his favorite SLAYER album, he replied: "It's difficult, I'm so involved with all the music on all of them… I mean, I've got to reference [1986's] Reign in Blood. I've got reference the Reign in Blood album because everybody around the world just said, you know, I've heard that's one of the greatest thrash records of all times.
"I'm very proud of [2015's] Repentless because I think a lot of people once Jeff [Hanneman, guitar] passed on [in 2013] kind of thought we were going to fold, and we just came out f*cking crush-your-face with that album.
"Another one, the same situation, was [2001's] God Hates us All," he continued. "We were kind of floating without any direction in the '90s and you know, the music that was popular irritated the sh*t out of me — I didn't understand why it was popular. And God Hates Us All was the beginning of me saying, 'F*ck you, I know what I'm here to do, let's do it.'
"One of the reasons I did the chain drop at the last show was so everybody in the building could hear it. And it wasn't something I planned, we were doing the last run, and I said, 'I want to do this on the last Forum show so people take it more seriously.' Like, 'King took off his chains, he left them on the stage. What the f*ck, man?'
"So people hopefully got that," King added. "This isn't one of those, 'We're going to be back next year and do it again.' The chains took me through SLAYER. I took them off, dropped them on stage, and I walked off, and that's the end of SLAYER for me."
Kerry King's post-SLAYER project has been rumored to feature SLAYER drummer Paul Bostaph, SLAYER/EXODUS guitarist Gary Holt and former PANTERA frontman Philip Anselmo.
SLAYER played its final show of their farewell tour last November at the Forum in Los Angeles. One day later, Kerry's wife, Ayesha, said that there is "not a chance in hell" that the thrash metal icons will reunite for more shows.