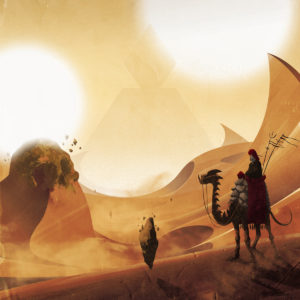 Every now and then we receive an album that is a little out of the box. An album where the music in it is very peculiar and goes completely out of what we generally have here. I mean, different not only in terms of genre, but also in terms of musical structure and cadence and all things related. The kind of album that is very difficult to label. Fun fact is that in general those albums are instrumental as this King Bong "Sand ≈ Return," whose name is also very peculiar and uncanny.
"Sand ≈ Return" is a re-release of the 2017 album. There are four tracks in an average of ten minutes minutes each. Last, but not least track, "Biondo (Lo Sai Di Chi Sei Figlio Tu)" has the kind time duration of eighteen minutes of a trip into the world music experimentation. This track delivers also to the fan some notions of free jazz in the beginning with the drumming. Note how the drums change its cadence and tempo especially when the guitar and the bass start. By the way, this track could be considered the most modern of the four of them. Pay attention to the tones of the guitar and the bass. They are a bit oversaturated ands seem to be downtuned. The general mood in the album is the late 1960s much more for the drive for experiments and the use of jazz or jazz-rock influences among all other sonancy experiences. "Sand ≈ Return" is clearly an experimental album in all senses. All four tracks follow the same path of experimentations and are a bit monolithic under these terms. What changes in each track is the mood and the influences. First track, for instance, "Marathon Des Sables" is very jazzy and jazz-rock. Its intro is very ethereal giving the impression to be in the outerspace, another influence of the album. Here and there the fan will feel some slights of modernities as some Metal guitar solos as aforementioned. A fun fact about "Sand ≈ Return" is that all four tracks are in four different languages. The reason? Beats me.
My dear fan, "Sand ≈ Return" for the ones who like experiments. King Bong try here to emulate the sensations one has when traveling throught the desert. The most surreal passages maybe the ones when due to the heat and drought one hallucinates. The album made me came back in time when I used to listen many albums like this especially the ones from Mahavishnu Orchestra. It's a great oportunity to get to know the rich enviroment of music some people are doing these days. And the insane possibilities among the so-called rock music.
King Bong "Sand ≈ Return" will be re-released on January 30th via Mandrone Records.
Track Listing:
Marathon Des Sables
Amou Ordak-e Bozorg
Capacocha (Llullaillaco Dreamin)
Biondo (Lo Sai Di Chi Sei Figlio Tu)