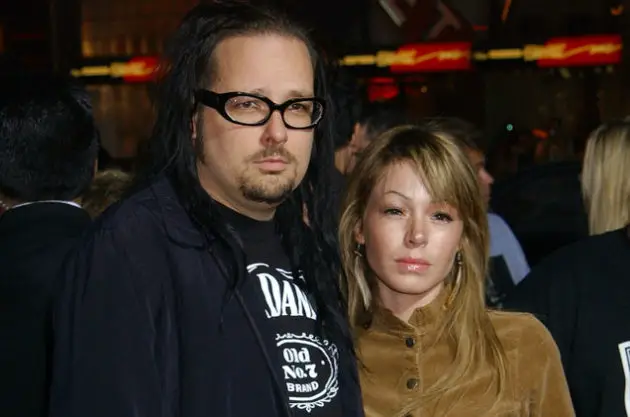 KORN guitarists James "Munky" Shaffer and Brian "Head" Welch have commented on the passing of frontman Jonathan Davis's estranged wife.
Deven Davis died on Friday at the age of 39. The former model's cause of death has not yet been revealed. However, she reportedly suffered with sobriety and substance abuse throughout her life.
In an Instagram post, Munky wrote: "Our prayers are with the Davis family at this difficult time. Jonathan, your wife will no longer suffer all of the demons. She is now with God. May she rest in peace and may you trust that me, your band, our families are here for you and will together help you and your boys to heal. We love you so much." He signed the message with "The Shaffer family."
Head shared an image which read: "Love, prayers for my bro, my homie Jonathan Davis and his family." He later shared another picture of a heart shattering into pieces and captioned it with a broken heart emoji.
Also commenting on Deven's passing was former KORN manager Jeff Kwatinetz, who wrote on Twitter: "My thoughts and prayers go out to one of my closest friends and a truly great human who I love, Jonathan Davis, on the death of his wife from an OD. I pray for his kids and family. I knew Deven and no one deserves to struggle w addiction and die. Too often, too much!"
Deven and the singer had two kids together, Pirate and Zeppelin. (Jonathan's first son from his previous marriage, Nathan, will turn 23 this fall.)
TMZ reports that Jonathan filed for divorce in October 2016, citing irreconcilable differences. He also filed for a domestic violence restraining order yesterday. The judge issued a temporary order blocking any child custody or visitation by Deven. The restraining order also prohibits her from having contact with the family dog, Chaos.
Jonathan claimed she had a drug dealer boyfriend who was recently passed out on her living room couch when he brought the kids to her house. Jonathan says he found a heroin pipe and cocaine floating in the toilet bowl and found Deven passed out on the floor upstairs.
According to the documents, Deven had been in a sober home but went missing last Friday and hadn't been seen for a week.