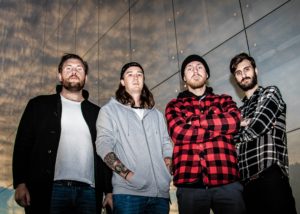 LEACH are pleased to announce that they will release the international physical version of "Hymns For the Hollow" on January 18th 2019.
If it's burly, melodic, and fits together perfectly, it's probably from Sweden. Leach certainly are, and their warts-and-all style of thrash-n'-roll is just begging for a throwdown. "Hymns For the Hollow" is their second major rodeo, and among the hefty riffs and fun-loving rhythms is plenty to get your teeth into.
Straight out the gate, "Hymns For the Hollow" is a mission statement of punk, metal, and … a hammering piano? "The Untouchables" knows how to get the party pit started, and it's pedal to the metal until the last track. "Chapter Two" thunders through its chugging grooves relentlessly, while its follow-up "We Have It All" is an anthemic riff-out carved from the foundation of rock itself, and the final track is a heart-rending beautiful ending. This dichotomy illustrates the band's knack of dynamics – it's all full-tilt, but avoiding the trap of being a one-trick pony. To top it off, the production is the right level of crisp and rough-n'-ready – a tip to the skills of Mike Cameron Force and Jacob Hansen (Volbeat, Epica, etc.).
When coming from such a rich scene as Sweden, a band cannot help but take some influence from their forefathers – in this case, the insistent energy of a Raised Fist, the rock n' roll parts of a latter-day Entombed, and the infectious melodies of The Haunted's Anders Björler. But it's not all Svenska – the US gets a look in, with Hatebreed's snarling bravado, and the thrash-fest of Exodus and Nuclear Assault. But all of these influences are not the sum of Leach – instead, the parts have been distilled into a potent concoction that is instantly recognizable and wholly theirs.
Leach are a band built for the stage – that much is clear in the immediacy of their songs – but there's more than enough replay value in Hymns for the Hollow if a bedroom mosh is in order. Invite some friends, throw the windows up, and let the music fly.
Leach are:
Markus Wikander – Guitar, Vocal
Jamie Andersson – Guitar
Anders Nordlander – Bass
Joachim Dahlström – Drums
Produced by Mike Cameron Force
Mastered by Jacob Hansen
Track Listing:
1. The Untouchables
2. Free From All
3. New Low
4. Chapter Two
5. We Have It All
6. Pragmatic Youth
7. Framgångssagan
8. End of an Era
9. The Prey
10. Do It
11. Hymn For the Hollow
Read our review here.