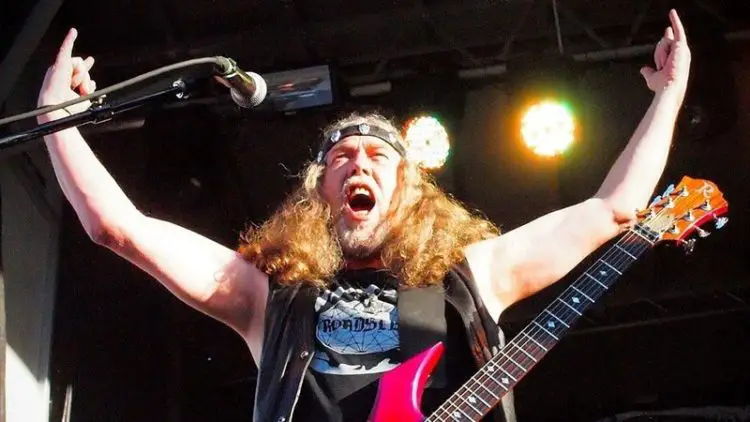 A decade after what was originally planned as a Mark Shelton solo project, namely "Circus Maximus," the album "Atlantis Rising" marked the comeback phase of Manilla Road proper. The band had signed to Iron Glory Records and issued two records in quick succession, "Atlantis Rising" in 2001 was followed by "Spiral Castle" a year later.
As "Spiral Castle" was released so shortly after "Atlantis Rising" it is legitimate to wonder in how far the two albums were interconnected, as there surely were some stylistic similarities as well. The late great Mark Shelton commented back at the time: "Actually some of the songs on "Spiral Castle" were written in the mid-1990's. After we did "Atlantis Rising," I decided to resurrect those songs. I re-wrote them a little and changed the titles and sort of re-arranged some of them. Since the songs were written before Bryan ("Hellroadie") started singing with us we changed the vocal approach on most of the songs. So it did not take too long to have some of "Spiral Castle" written. The song 'Spiral Castle' was originally called 'White Goddess.' 'Merchants Of Death' was originally called 'Holy War' and 'Seven Trumpets' was first called 'The Gods Are Sleeping.' The rest of the songs on the project were written specifically for the project. I would not say that the album is total similar in style to "Atlantis Rising" but there are similarities because of it being the same band members playing on the project. I personally feel like there was a bit more of an artistic approach to "Spiral Castle." It's not a huge epic concept like "Atlantis Rising" was and I think "Atlantis Rising" was a bit more of a direct approach to the songs than "Spiral Castle." "Spiral Castle" has a real artsy feeling to most of the songs."
There you have it. And one thing is for sure, while for long time Manilla Road fanatics "Spiral Castle" might not be up there with "Crystal Logic," or "Out of the Abyss" for that matter, it's certainly an album worthy of re-discovering. Maybe even one of the "deepest" records in the extensive back catalogue of The Road.
Read our review here.