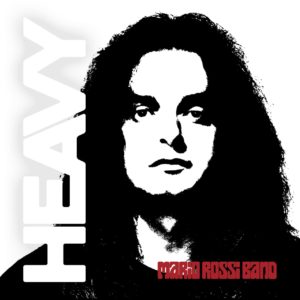 Yeah, my dear fans and children of the night, it's 2022 already. Time goes really fast especially for cranky old geezers as I am. It's been just the other day that I started listening to all those breakthrough music that came from the late 1960 and early 1970 that made all the fuzz with acid driven vocals, dazzling guitars solos and an unparalleled melody. There was the time I discovered the great Mountain with their "The Best of Mountain," the album that was quickly triggered my musical memory while listening to this Mario Rossi Band "Heavy" – by the way, let's start with what an album name for the album name's sake. "Heavy" is pretty heavy – no pun intended here – but not in the millenial's term, heavy for an old cranky old man like I am. Or for the ones that love the roots of Metal music that is the electrified Blues mixed with some rock. "Heavy" is heavy in the old manner. Good times, better times.
"Heavy" opens up with Mountain flavored "Nemesis" with guitars that remind a lot Leslie West's. And, please, this is a compliment. The short drums solo in the opening is pretty nice and exciting too. But the guitars steal the scene. So sorry. Well, for the record, there is a bass solo in the middle that sounds really special and heartwarming. Too bad the song has only a little more than two minutes. The delicious and omnipresent guitars that fill all the spaces and blanks with inspired phrasing and licking as if "Midnight Woman" were recorded back then in the good old times. The feeling the song brings to a person like me is indescribable and makes me travel back in time and wonder why can't we have more albums like this. I mean, I love Metal music, but this kind of music warms the heart. It's so thick and plain interwoven with so much melody and finesse. The piano and bluesy keyboards in the following track "I Could Be Good For You Now" make me look nostalgic. Maybe too much nostalgic, however what can I do? It's 2022! Does anybody remember finesse?
This kind of guitar sharp and precise guitar phrasing though short is something that we don't listen anymore. Too bad. Listening to "Heavy" made me rememer that there is still room for it. Tracks as "When the Summer Ends" reinforce the idea and address me to Mr. Eric Clapton slowhand, when to have a slowhand was a compliment. Your time is gonna come, my dear fan and children of the night.
P.S.: Did you miss me, my dear child of the night? hahahahahahahahaha I guess you did indeed.
Mario Rossi "Heavy" was independently released on October 08th, 2021.
Track Listing:
Nemesis
Midnight Woman
I Could Be Good for You Now
When the Summer Ends
Raw 'n' Rough Boogie
That Letter
Acid/Chemistry
Watch "Midnight Woman" official video here: