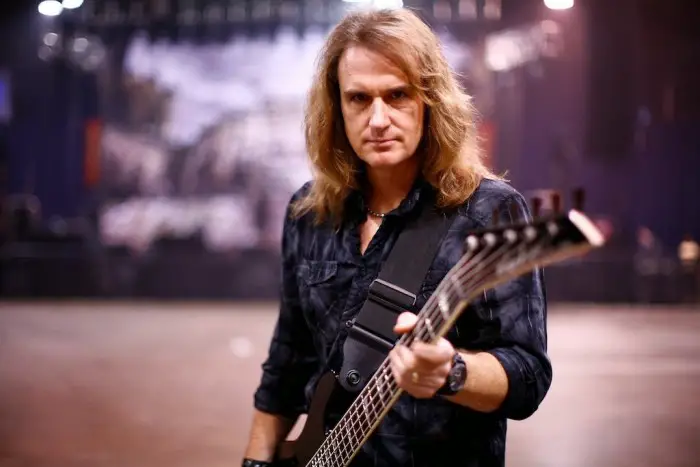 In a recent interview with Metal Underground's Diamond Oz, MEGADETH bassist David Ellefson spoke about JUDAS PRIEST's Ian Hill's influence, as well as the similarities between the respective careers of MEGADETH and PRIEST.
"I am Ian Hill's biggest fan," Ellefson said (as transcribed by Blabbermouth.net). "I have always admired his bass playing from the minute I heard it. It's clean; it's precise. I've emulated a lot of his style during probably the '90s MEGADETH when our songs got a little bit more mainstream; I emulated what JUDAS PRIEST went through when they had their big '80s MTV years. 
"Ian's bass playing, at times, it was very progressive, almost [in the style of] JETHRO TULL, Jack Bruce [CREAM]. Then there's times he plays real simple to support the song. He has been a number one influence of mine. [Other influences were] Steve Harris [IRON MAIDEN], Geddy Lee [RUSH], and, of course, Gene Simmons [KISS], but Ian doesn't get a lot of the big celebrity credit because he's not down front — he's intentionally in the back — and he really holds down the role. If you think about the most formidable, probably iconic heavy metal bass player, he is it. Now I'm not just listening to these songs in my car as a fan, but to pick up the bass and really study what he's doing, has really been an incredible education."
"It's funny how JUDAS PRIEST and MEGADETH are so similar in so many ways," David continued. "Obviously, a lot of what we learned we learned from JUDAS PRIEST. Yet, as K.K. talked about in his book, by the time they did 'Painkiller', they were very aware of this thrash metal genre, which is us coming up behind them.
"I think it kicked them in the pants and got them to dig deep and come up with records like Painkiller, and even the couple of records when Ripper  as in the band. There's some pretty deep, pretty intricate stuff — very different JUDAS PRIEST in that era. I can relate to that. MEGADETH has done the same thing. We've had to reinvent and dig deep and to reinvent ourselves throughout the 36 years we've been a band. In a lot of ways, JUDAS PRIEST and MEGADETH have walked a very similar path. I think those are things that probably bond me and K.K. as kind of brothers in arms as professional musicians."
Former JUDAS PRIEST members K.K. Downing (guitar), Les Binks (drums) and Tim "Ripper" Owens (vocals) joined forces to perform "a full-length set of PRIEST classics" along with MEGADETH bassist David Ellefson on November 3 in Wolverhampton, United Kingdom.
Video footage from that show can be seen here.