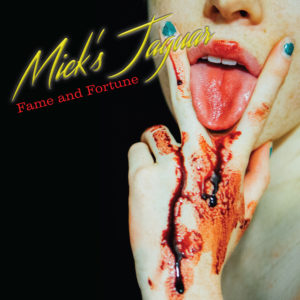 Mick's Jaguar and "Fame and Fortune" were a grateful surprise. As I told before, I am not expecting anything from rock aesthetic bands. In a certain way, to me, rock is dead. But it left a bastard son, which is Heavy Metal, and some grandchildren.
Mick's Jaguar don't try to be modern. There is no sense of modernity at all in "Fame and Fortune." That what makes it so good. On the other hand, Mick's Jaguar are a perfect product of our times when many have been done and played. There are lots of references. Lots of great bands and wonderful music left. Mick's Jaguar take all them and produce a great modern music. Paradoxal, hum? Yeah, I'm perfectly aware it is. But what is more modern than recreating the wonderful music of the past. I mean, or you prefer Rihanna or Adele or whatever, they all taste the same.
Mick's Jaguar are a kind of more lisergic Rolling Stones, if that is even possible. It is almost punk rock as the Sex Pistols. "Fame and Fortune" is an effort that combines all the angry of punk and the finesse of rock'n'roll. "Damnation" is a pretty example of it. Guitars is as raw as Rolling Stones, but they have all the same rock'n'roll finesse and delicacy as the tongued guys. "Country and Punk" explains that perfectly. A fun fact of Mick's Jaguar is about guitars. There are three of them.
I called the eye to "New Orleans Blues," a 1970ish ballad with a beautiful harmonica and a Keith Richardsish guitar solo without the effects. By the way, there is a lot of blues in Mick's Jaguar. Well, as a matter of fact, it couldn't be otherwise.
Yeah, it's so good to know that in these times of cell phone music, there are some guys playing the good old rock. Mick's Jaguar gave me hope. And hope is good.
Mick's Jaguar "Fame and Fortune" will get all the fame and fortune they deserve on June 22nd via RidingEasy Records.
Track Listing:
Real Boss
Pay to Play
Where We Go
Here Comes the Night
Blood on the Snow
Hell Ride
Damnation
Country and Punk
Call the Guy
New Orleans Blues
Watch "Blood on the Snow" official video here: