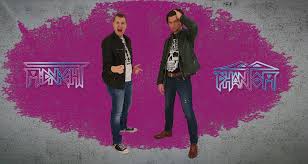 Midnight Phantom are a two man hard rock/heavy metal/hair metal project from Hannover, the German epicentre of 80s hard rock, consisting of Christian Heimbucher and Stephan Wsintek.
Christian Heimbucher is responsible for all instruments played on the recordings as well as songwriting while Stephan Wsintek takes care of main vocal duties and melody writing.
Stephan and Christian started making music together in 1996, when Stephan asked Christian to join his school band Prickly Sculpin. Over the years, they played together in several local bands, ranging from Heavy Metal, Alternative Rock, German Rock to Progressive Rock.
Inspired by their hometown heroes Scorpions and Victory as well as other 80s bands such as Def Leppard, Bon Jovi, Van Halen, Helloween and the contemporary hair metal band Steel Panther, they startet the project Midnight Phantom in 2018 with songs Christian had written and produced over the previous years. These songs were finally released on YouTube in the spring of 2020 under the album title "Caught in the 80s."
Simultaneously they started working on their sophomore album and released the first two singles "Children of the 80s" and "Heroes Never Die" in september and october 2020 respectively via streaming.
Finally, their 2nd album "Hollywood Dreams" was released  december  11th, 2020 via streaming. The album was produced by Christian Heimbucher. It shows the band in full 80s hard rock mode with big choruses, soaring guitar work, high register vocals and tongue-in-cheek lyrics.

Band Line-Up:
Christian Heimbucher: Guitar, Bass, Drums, Progamming, Keyboards, Backing Vocals
Stephan Wsintek: Vocals
Read our review here.