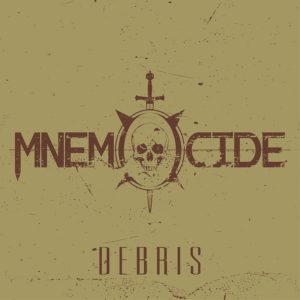 This is the album Sepultura's "Arise" or "Chaos A.D." era would love to have recorded. Violent, crunchy, vibrating. A direct call to headbanging at maximum power. Mnemocide with "Debris" remind us how groovy and angry a Metal band can be if it want it to. First track "Only Shades" with slow-mesmerized riffing and angry-inspired vocals is a great greeting card to an album which only defect is to have only 4 tracks. With a chorus followed by a precise guitar phrase, "Only Shades" gets to be an unforgetble track.
The first thing that calls the eye in "Debris" is Matthias voice. The dude has a great vocal technique which allows him to keep up its power even when the tunes are higher. HIs voice is powerful, angry, and reminds a lot Pantera's Phil Anselmo. The same power and low-toned voice. Also the same wrath. Pay attention to how Mnemocide work with the choruses. Instrumental parts are prepared to follow Matthias voice. They do an excellent job in highlightining them. Some bands, I don't know why, are affraid to have, or even, to highlight their choruses. Mnemocide don't and the final effect is sensational.
"Debris" is a powerhouse of insane and muscular riffing. The power duo Richy and Chris, though playing Death Metal, features a thrash guitar grip with sharp and precise strokes and creative interventions. The dudes play with a strength revealed in each note. Solid as a wall of sound. Mnemocide once more prove us that a band doesn't need to be fast to be great. It feels like to be a rollercoaster of blasting riffing.
Mnemocide with "Debris" was self-released on April.
Track Listing:
Only Shades
Pawns
Collapse
Soul Collector
Watch "Only Shades" official video here: