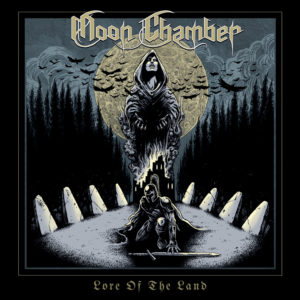 And then comes the day that you hear a band that sounds like an mix of Deep Purple "Burn" era with those powerfull and perfect female vocals of no one  but Crystal Viper's Marta Gabriel. First track "De Temporum Ratione" comes as bullet in your  head making you feel dizzy and something like groogy with so much power and adrenaline. Moon Chamber with "Lore of the Land" are the perfect match of the 1970s overdriven songs, the melody of a female voice, the inspired instrumentals with a band perfectly build up to do so. Chronologically, that puts Moon Chamber circa 1975 to 1980, and my guess is that was always the intent.
Funny thing about Moon Chamber is that the band is made of NWOBHM guys from head to toe, but somehow they sound as 1970s piece. A great one, by the way. Great as usual, Marta Gabriel leads the way with her aggressive, but well-tuned voice to legendary Saracen's guys guitarist Rob Bendelow and keyboardist Paul Bradde added with Pagan Altar's drummer Andy Green. On second thought, when you listen to "The Goddess and the Green Man" you recognise lots of Saracen in it. The much that makes you revaluate everything you wrote about "Lore of the Land." Do I need to rethink what I wrote? Nah, no need. Sometimes it happens in the middle of it. Having second thoughts.
Now that "Lore of the Land" is pretty well established into my mind, I see that Moon Chamber work as if Saracen had female vocals. I dare to say that the match was perfect. If it were possible, I'd say that Saracen got even more perfect than it is. By the way, Saracen are one more of the unsung heores of the NWOBHM. A band that had its efemerous glory with "Heroes, Saints, and Fools" – check this out, my child of the night – and changed it for some dollars in the pocket. Irony is all bands that did it in the 1980s failed miserably. Saracen were just one more of them. A band that built a reputation just to loose it with a commercial album "Change of Heart" – what an apropriate name! Check on them. You won't regret. By now stay with Moon Chamber with "Lore of the Land" which is a good remedy. It's so great to hear again those melodious guitars.
For our's and Moon Chamber sakes, time heals everything and here is the second chance they deserved. "Lore of the Land" is a memorable album in many ways. I care a lot for them. No kidding.
Moon Chamber "Lore of the Land" will be released on October 25th via No Remorse Records.
Track Listing:
De Temporum Ratione
Only
When Stakes Are High
Ravenmaster
We'll Find a Way
The Nine Ladies
The Goddess and the Green Man
Crystal Wind
The Plague
Knight Errant My Son
Watch "When Stakes Are High" official video here: