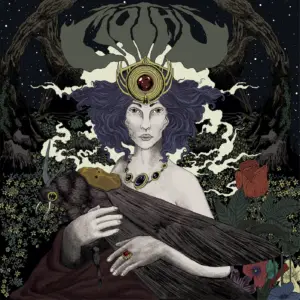 It's funny how things go in this Metal Addicts review unit. It seems like PRs choose to send you one type of band at a time. No problem, I'm just cool with that. As I told zillion times before, one of the things that make me love this job is because of the opportunities of running into such cool bands that I would never had the chance. And, as you know, I'll be straight, Moths are  a cool band.
From the beginning, Moths show everything they've got of coolest and that is the great vocal duets and variation.  First track "Lepidoptera" calls the eye with them. Furthermore, there are cool so many jazzy guitar interventions. It's so great to listen to jazzy guitar phrases into some Metal stuff. To think that I though this mix would be impossible. I was flat wrong, Moths did a great job proving me wrong. As a matter of fact, a band has to be very resourceful to dive under these waters. Considering all odds, there is also a great chance of sounding as a pastiche of 1970s jazz rock bands. By the way, have I ever told here how cool they are? Moths did their best to avoid this path.  From where I'm standing, "Moths" best track is "Desires" where the mix works fine. "Desires" begins heavy as hell with a great thundering drumming and a great guitar riff to change in a minute to a crunchy riffing and swingful drumming. It is so hard not to remember Jeff Beck's "Blow by Blow" or John Mclaughlin – by the way, check them out, guys.
But, on "21st Century Schizoid Man" Moths show where they really come from. Robert Frip and King Crimson seem to have done a lot for the dudes. Check the awesome pounding drums. The only thing I missed in "Moths" is the vocal duets "Lepidoptera" showed us. In my opinion, they should have used them in more tracks.
"Moths" is an album if you're looking for something else.  No more, no less.
Moths "Moths" will be released on November 02nd (Lo 'Dia de los muertos').
Track Listing:
Lepidoptera

Adhara & Ray

Desires

21st Century Schizoid Man (King Crimson cover)
Watch "Lepidoptera" official audio here: