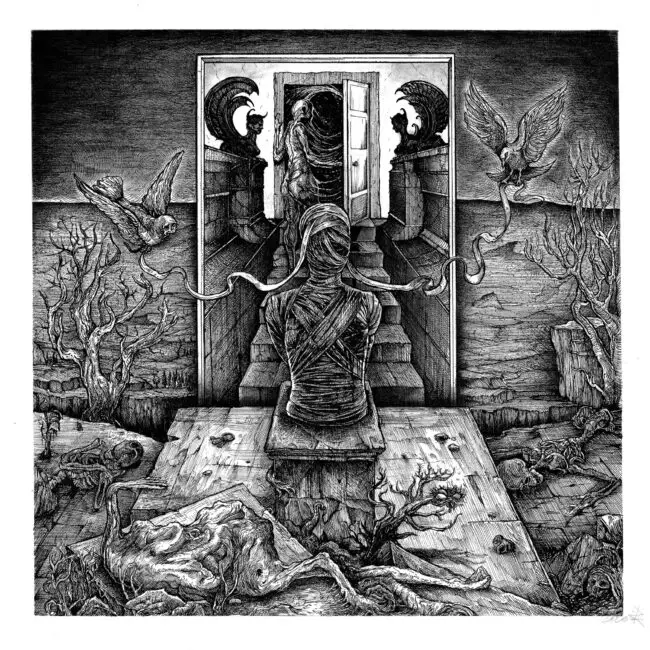 Maybe my dear child of the night doesn't have a quite accurate view when in a review the band is told to be brutal or even that it promotes a carnage and a bloodshed. "A Place for Ash's" initial fire "Penence" gives the most accurate idea ever. First, it's hard to distinguish if it is a Grindcore band or an old school Black Metal band due to the drums spanking and the violent guitar destroying playing. "Penence" starts with an enraged discourse that opens up to an even more enraged instrumental where the drums is the only noticeable thing besides the roars and the growls. Guitars are there but in a background at first. It's only when the song develops a little that it's possible to notice the subtle guitars besides all the noise the drums make. My mind goes back to the first times I heard something from Extreme Metal circa 1985 ou 1986. Maybe the impression is early Voivod. Or even the early Scandinavian Black Metal bands with their own and unique sonancy. This works as an intro as by the second minute the song changes head over hills acquiring a Modern Black Metal wrapping. The drums slow down, however, the growls intensify. Interestingly, the songs has no lyrics or it's possible to understand the lyrics. Both assumptions are right.
I'd say that "A Place for Ash" may be divided into two distinct parts. Part one with "Penence" and which have the same anger "Throes of Ardent Disposition" and faster than light drumming. Both tracks have the same sonancy. Though, there is an outstanding difference between the two and this difference could make me consider "Throes of Ardent Disposition" as a transition track. Its end the rage cools down and the song acquires the tone that will be the prominent in the following tracks. From then on the following tracks will be more Modern Black Metal with all the dissonances and the strumming guitars leaving all the speed of light drumming behind. One thing that remains untouched is the vocals and, sometimes, the absence of lyrics or the impossibility of understanding them which a feature Black Metal stands for. On the plus side, the album doesn't loose any inch of power and heavyness. It gets more and more the gloomy and dark mood Black Metal bands are here to deliver. It's fantastic to notice that the guitars acquire more relevance giving the songs the Metal trait for all of us beloved. And more and more fear, and despare and anguish so present in today's bands.
Mo'ynoq "A Place for Ash" will be released on September 09th.
Track Listing:
Penance
Throes of Ardent Disposition
Effigies Adorned in Fire
Synchromysticism
The Beast That Mourned at the Heart of the Mountain
Watch "Throes of Ardent Disposition" official video here: