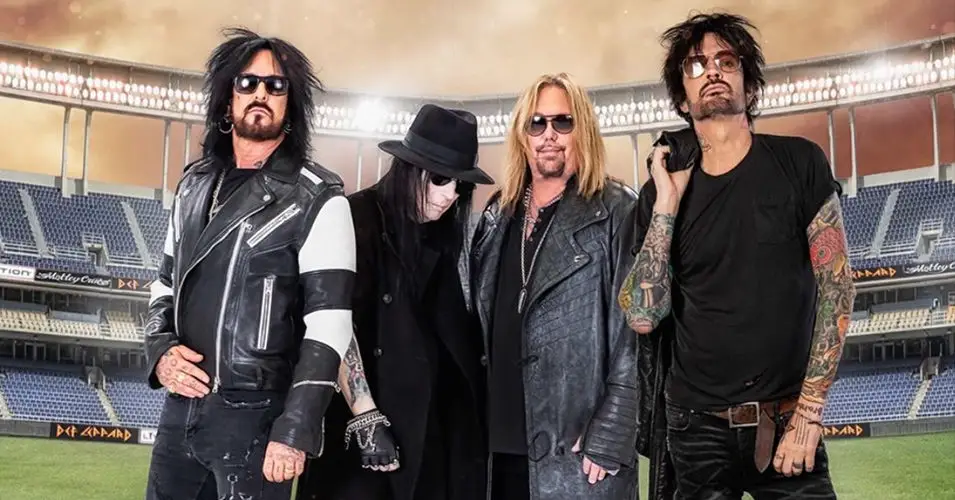 In a new interview with Entertainment Tonight 's Kevin Frazier, MÖTLEY CRÜE bassist Nikki Sixx and drummer Tommy Lee spoke about what it has been like for them to return to the road as part of the band's recently completed stadium tour.
"It's been unbelievable," Sixx said. "I'm so grateful to be doing this, and it started, like, three years ago when the movie came out — two and a half years ago. We kind of, we broke up the band. We just decided to quit touring. We've been doing it for, god, 35 years at that point."
Sixx also said that he was initially opposed to the idea of CRÜE reuniting: "Tommy does other stuff, and I do other stuff, and I remember getting the phone call from management, and I was like. 'No,'" Sixx said of being asked to tour again. "And they go, 'You haven't even heard what I have to say.'"
"We were done. We were done," Lee said.
"And we were friends, and we were fine and everything's good," Sixx continued. "We're just like, 'No, it's a lot of work.' When you see the show out there, you're gonna go, 'Wow.' I mean, it's years of work putting it together, and then they were like, 'No, not eight arenas, eight stadiums,' and I was like, 'Let me call Tommy.'"
"I was like, 'Hey, dude, they're talking about us touring,' and he's like, 'No.' Because we wanted to be — stand by what we said, and then it was 16 and 36, which we just entered our 36th stadium, and there's, what, another 120 next year and the year after that, so, we're grateful we said yes."
"We're having a blast," Sixx said. "How can you say no to stadiums?" Lee agreed.
Sixx continued: "I mean, we're all having a blast, everyone's just having a good time…it's amazing to be 41 years together? I mean, sometimes it's just like, 'What?' Stepping into some sacred territory there."
Vince Neil recently assured fans that MÖTLEY CRÜE will continue to tour internationally, with plans to return to the U.S. in 2024.
"We're far from being over," Neil told John Katsilometes of the Las Vegas Review-Journal. "When we come back in '24, we're going to do it all over again."
Neil also confirmed that there are talks of CRÜE returning for a third residency in Vegas, where they previously played a series of shows at the Joint at the Hard Rock Hotel in 2012 and again in 2013.
"We have definitely talked about doing it, and everybody loves to do the residencies, so I say, 'Yeah, we're gonna do it,'" Neil said. "We just have to look at sometime in '24, to be back in Vegas. But we will be back."
He also said that band will only stick to touring and that there are no plans for new studio album.
"We are strictly a touring band," Neil said. "When you see this show at Allegiant, you'll see why. You're going to see something that's unbelievable, lights and lasers, three dancers. There are a lot of cool special effects, and a cool band putting on a rock show."