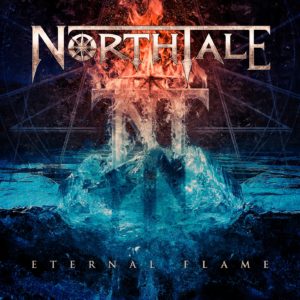 If there is one thing in Metal music I do like is the grand openings. Songs that begin with pomp and power. "Only Human" has both and that makes NorthTale "Eternal Flame" even more interesting to review though its sonancy is pretty predictable. Ok, I know I'm the first to say that Power Metal is predictable, but the thing is that I'm in the mood for some predictable that this album delivers. Well, to tell you the truth, the music here isn't that predictable at all. There is a mix of Helloween with Nightwish that catches the fan by the guts and the heart.
It's when comes fourth track "The Land of Mystic Rites" that the reviewer makes one of the important questions that is "where the hell does that come from?". Then the reviewer pays a visit to the press release and understands that the band and the album are the outcome of mastermind guitarist Bill Hudson, who has made a name for himself over the past 15 years working with artists including DORO, Jon Oliva's PAIN, U.D.O., CIRCLE II CIRCLE, TRANS-SIBERIAN ORCHESTRA and David Vincent's I AM MORBID. A man with a great history. That's the time when the artist history explains the artist. The a la Angra Brazilian rhythms of the song are now very well explained. I have to say that the song is a real surprise. I would never expect a sonancy like that again in a Metal album. That's when you the importance and relevance of artists as Angra and the late André Matos. From where I'm standing the song saves the day.
But, hey, I'm saying that NorthTale "Eternal Flame" is a bad album. No, no, not at all. I just stick to my opinion that sometimes Power Metal is predictable and that doesn't mean a bad thing whatsoever. There are days in our lives that what we all want is the comfort of an album as this one. When a track "Ride the Storm" means a lot to you because it makes you remind your own glory days. No harm in that. No harm at all. In time, the long "Nature's Revenge" pays it off as well.
NorthTale "Eternal Flame" will be released on November 12th via Nuclear Blast Records.
Track Listing:
Only Human
Wings of Salvation
Future Calls
North Tale – Eternal Flame – The Land of Mystic Rites
Midnight Bells
Eternal Flame
In The Name of God
Ride the Storm
King of Your Illusion
Judas Be My Guide
Nature's Revenge
Ivy
Watch "Only Human" official music video here: