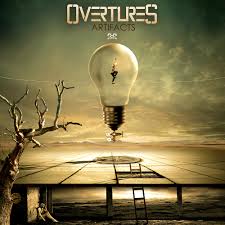 I can't help it getting amazed by the art work bands are doing these days. It's not only the care , but also the quality of the material they send us and provide fans. Overtures' web page is an amazing example. It's well built, the design is so darn good, and the most important, easy to the user. Not enough to mention that the same awesome treatment Overtures gave to their web page, they gave to their songs, which between you and me, is the most important thing. Boy and girls, I guess Metal has reached the professional peak! There's absolutely no room for amateurs anymore!
If I were to pick a word to represent Overtures, I would pick emotion. Not that cheesy'n'easy emotion that you buy in any market, but a complex and full-hearted one. The kind we find in Metal. And let's be honest, Metal isn't for everyone. Very few can sense this kind of complex emotion. "Artifacts" is full of them. Each track has a hidden one that will be revealed when you open the Pandora's box of sounds that "Artifacts" has to offer.
This time due to several reasons I started listening to Overtures by the videos they provide. I watched "Artifacts", the tittle track, and "Unshared Words". Both very good, but the one that really kept my attention was "Unshared Words". That's the one where you can notice that Overtures seem to be more confortable as a band. Everybody is doing their jobs in a very easy way. The musicians felt free to fly away and give their best.
You can notice some influences to Overtures, but the most prominent are Angra and Queensrÿche, and  "Unshared Words" is the song that show us all those influences. Mostly the singing done by Michele Guaitoli, which is very near to Andre Matos in the good old days. And some people can't get how good this is. The first track "Repentance" give us a good tip of what's going to be revealed. Strong and dense, full-hearted song as the 11 others. I wouldn't change a thing!
Track Listing:
Repetence
Artifacts
GO(L)D
As Candles We Burn
Profiled
Unshared Words
My Refuge
New Dawn, New Dusk
Teardrop
Angry Animals
Savior
Watch "Unshared Words" here and share the emotion I felt: