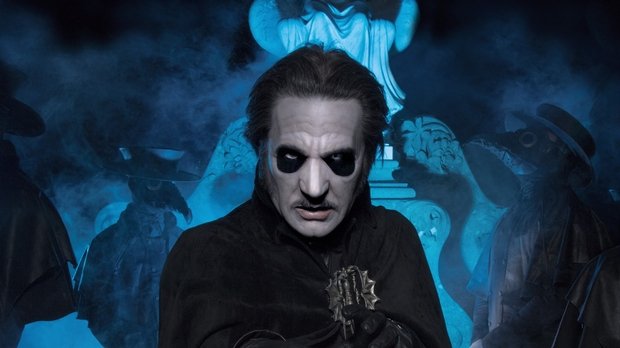 In a new interview with Kerrang! magazine, GHOST leader Tobias Forge revealed the plans for follow-up to 2018's Prequelle album.
"I look at many fifth albums as a guide as to the urgency for what that record will need to be, with [IRON MAIDEN's] 'Powerslave' being a great example," he said. "By the fifth album, you're at a point in your career where you have this momentum built up, and you have the expectancy of people depending on you, so you have to put something special in those many spotlights. You need to step up and make a record that's worth it and justifies all of these things."
When asked if the new character will be fronting the band during next album's circle, Tobias responded: "I just know that person will have the name Papa Emeritus IV. It will be the fourth Papa Emeritus. But who that is, we don't know yet."
In a recent interview with Revolver Magazine, Forge talked about the musical direction he wants to pursue with the band's next album.
The musician pointed out he is aiming to "make a different record" from the latest GHOST effort, 2018 Prequelle, which he described as "a little ballad heavy." 
Tobias added: "I want it to feel different. If I dare to say 'heavier,' people think that it's going to be MERCYFUL FATE all the way … but I definitely have a darker, heavier record in mind."
GHOST's latest album, Prequelle, was released on 1 June 2018. The album marked the band's strongest selling debut to date, landing at number 3 on the Billboard 200, selling 66,000 copies in its first week, with 61,000 of those being "traditional" album sales.