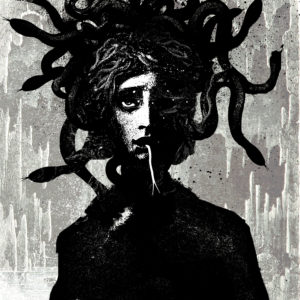 Once in a while Metal Addicts receive some releases that are really out of the box. Musicwise, of course. Potmos Hetoimos with "Vox Medusae" are one of them. Bold bands attract me. Bands with the courage of trying the unexpected too. I mean, not that it is mandatory to try new things each effort. It's not that. You know, just get off the line. There are tons of amazing bands in the past, why not looking with care to them? Potmos Hetoimos did. They looked to the past, more precisely to the 1970s and added some modern stuff, and voilà, here's "Vox Medusae" a groundshaking effort.
Basically, Potmos Hetoimos is the lost link between 1970's jazz rock and extreme metal. Have you ever met an extreme band with sax solos? Yeah, Potmos Hetoimos did that. There's a lot of art rock also and Black Sabbath. Well, a Metal band never forget its roots. As a matter of fact, "Vox Medusae" is a surprise box because each track has a different thing. Some are more jazzy, others more art rock, but there's always a pleasant surprise. The thing is that modern metal doesn't hang around with jazz. To be truthful, old school metal didn't either. Both genres can benefit from this association. Well, only an opinion. Songs like "V. Braid of Ouroboros" really make me wonder that kind of association. There are some really beautiful passages in it. The formula works best here.
The thing is that uncanny mixes like this one are a very difficult thing to make it work. The genres are very different from each other musicwise. If you don't pay the needed attention, the result will be an amorphous mass. Too different musical elements, different musical philosophy, but the same intense. Both genres are musical. People in Metal and jazz are ready to play. One's got to be a musician to play both. That's the line Potmos Hetoimos follow. Feeling matters most, but musical ability counts too.
Potmos Hetoimos "Vox Medusae" is an album for those who aren't afraid to dare.
Potmos Hetoimos "Vox Medusae" was released on September 12th.
Track Listing:
I. Idyll Anathema
II. Voracious Embrace
III. The Silicon Mirror
Fits & Fevers
IV, A. Perseus, Pristine
IV, B. Perseus, Pyrrhic
V. Braid of Ouroboros
E Pur Lei Muore
Watch "III. The Silicon Mirror" lyric video here: