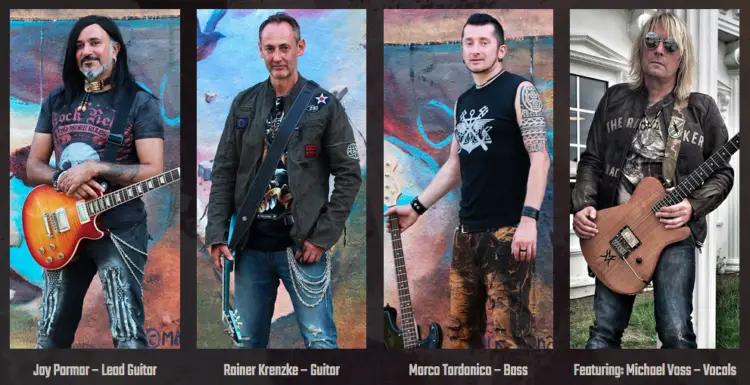 Rainium are a German-British hardrock band with the German members Rainer Krenzke (guitar),  Marco Tardanico (bass), the Brit Jay Parmar (guitar) and featuring the German Michael Voss  (vocals) on the "Sounds Of Berlin" debut album. Michael Voss is known as frontman of Mad Max, Casanovo, ex-Bonfire, band projects like Wolfpakk, Rock Wolves, Phantom 5 and as producer of Michael Schenker.
Solo and lead guitar is played by Brit Jay Parmar, who has made a name for himself with his Dokken and George Lynch tributes and has worked as a tour and studio guitarist with bands such as Eden's Curse, Iron Knights and The Inner Road.
The line-up settled during the album work. Band founder Rainer Krenzke had been started to work on a bunch of unused song material and ideas that were very personal bouncing around in his head for quite some time. He didn't had a band at that time and couldn't find a line-up of previous bandmates for that project. After finishing three instrumental demo tracks he went looking for a vocalist, and for someone to write the lyrics and vocals. Many contacts later, he sent the demos to Michael Voss and it came to a first recording session with Michael Voss at his Kidroom Studio.
It crystalized soon to a perfect collaboration between Rainer Krenzke and Michael Voss for the songwriting and studio work. With his musician friends Jay Parmar and Marco Tardanico joining the project during 2017 to 2018 Rainium got founded. This union gives the basement for great hardrock music in a flavour of straight hooks and yet very versatile songs, played with passion here and now.
Line-up:
Michael Voss (featuring) – vocal
Rainer Krenzke – guitar
Jay Parmar – lead guitar
Marco Tardanico – bass
Jan Prummel (session/guest)- drums
Ilo Schnittchen (guest) – vocal on Right Here Right Now
Read our review here.