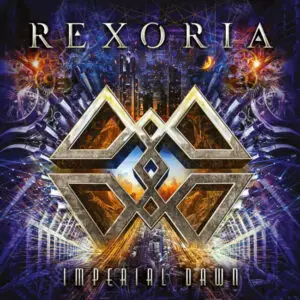 It's been really a while since a so energetic and exciting album don't pop up here. With Rexoria and "Imperial Dawn" my dear child of the night will rediscover that urge to bang the head instantly and relentlessly. The album is powerhouse of fast riffing, machine gun drumming, and corrosive vocals. Though the band walks on Symphonic Power Metal soil the energy it delivers is something really out of this world. If memory serves me right, we've received some compatible bands but, really, nothing like this. I guess only Battle Beast "Circus of Doom" or Metalite "A Virtual World" can be a match, but, again, "Imperial Dawn" is much more Metal if you know what I mean.
"Paradigm" opens up the album showing everything Rexoria got. From the start the fan will notice the Bon Joviish keayboards that helps a lot bringing more energy to the fold. The relentless guitars have their share as well. As their peers Rexoria use and abuse electronic effects to emulate some kind of a 1990 dancing music atmosphere but here those effects are almost backgrounding the songs and their effect is to elevate the adrenaline as "Set Me on Fire," whose intro is pure danicng keyboards that for the band's and our's sake are soon replaced by an angry guitar. I said here once and I'll say it again those effects only work if they are an organic part of the song but they can't outpower the guitars. Never. Ever. So is the fast paced "Crushing for More" whose keyboards  take the lead as early Bon Jovi's songs helping the energy to flow. However, the cherry top of the cake comes with grand finale "Enchantedsland" whose melodic frenzy sums up the album with one track to bang the head.
Rexoria got exactly the idea of what makes a great Symphonic Power Metal even with some pop influences here and there. Their energetic and adrenalized music gets the fan by the guts whatsoever. Remember that I said that Symphonic Power Metal bands were today's Glam Metal bands? Here is "Imperial Dawn" to prove me right once more.
Rexoria "Imperial Dawn" will be released on February 03rd via Black Lodge.
Track Listing:
Paradigm
The New Revelation
Devious Desire
Rage and Madness
Fading Rose
Light up the Sky
Horizon
Set Me on Fire
Crushing for More
Enchantedsland
Watch "Light up the Sky" official music video here: