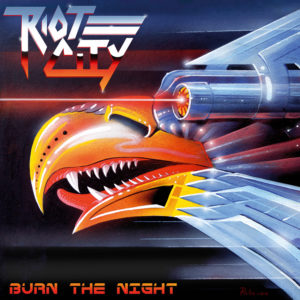 Philosophically speaking there are no coincidences. The dices are always rolling and it's impossible to tell. Maybe sometimes some weird stuff happen, you may call it coincidence, but, in fact, it is not. Just one more move in the constant flow of the river of life. Life is a constant flow, no matter you aggree, or don't. Life goes on despite your likes and dislikes. Destiny plays a huge role in life indeed. The more you try to run, the more you get from it. There are certains things in life that are meant to happen, no matter how. It is possible to delay them, or to fastforward them. Never to escape.
The reason I'm telling all this is because in my last review I talked about the good old Speed Metal and I mentioned that there are the European and the American Speed Metal. My last review was with an European Speed Metal band. Well, if you believe in coincidences, the next band I get is an American representative of Speed Metal. And a very good one. Riot City embody the spirit of American Speed Metal with high-pitched vocals, melodic and fast guitar riffs, speed-of-the-light drumming and thundering basses. "Burn the Night" is a great album with all its breaks of moods as in "The Hunter" representaing what is best about Speed Metal.
Passion is the force that drives Riot City throughout "Burn the Night" and its eight tracks. The band skillfully varies the moods and sensations in order to give the album a perfect atmosphere. There are high-speed tracks as "Still Rider" and cadenced ones as aforementioned "The Hunter" which altogether give the greatness of "Burn the Night." Vocalist Cale Savy does great high-pitched vocals. Fun fact is that those so characteristic vocals to Metal are the first to be criticized by haters. Pay attention to that, all mockery about Metal use high-pitched vocals. I truly pity them because it means they are not able to have it. Modern music styles are plastic and false and mechanical. Electronic machines do it all. No, not in Metal. we praise the loud, but we also praise quality. Metal musicians walk in the edge of being raw and sophisticated. It's not really easy, but bands as Riot City do a great job keeping the faith and the flame high and alive. Feel all the emotion and heart of "329" and then you tell me.
Riot City "Burn the Night" was released on May 17th via No Remorse Records.
Track Listing:
Warrior of Time
Burn the Night
In the Dark
Livin' Fast
The Hunter
Steel Rider
329
Halloween at Midnight
Watch "In the Dark" official video here: